Fusion & Genesis PPV List!
-King of the Ring
-Exodus
-CyberSlam
-Tag Team Cup
-Validation
-Dark Carnival
-Point Break
-Regicide
-Wild Card
-Absolution
-Emergence
-Home Coming
-Cause & Effect
-Final Resolution
-Purgatory
-Ascendance
Fusion/Genesis Superstar of the Week!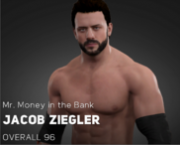 Page 1 of 6 • 1, 2, 3, 4, 5, 6

What match are YOU most excited for at Purgatory?
Saturday Night Genesis: Episode 211!
Live! From the sold-out CFE Arena in Orlando, Florida!!!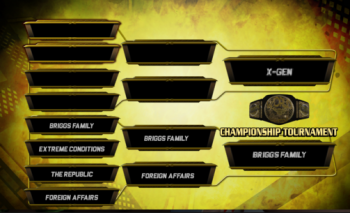 Purgatory card thus far!
(Subject to change.)
-Hayden vs. Sushi-X inside of Hell in a Cell!
-Bryan Novak (c) vs. JustIN Sane for the CMV Undisputed championship!
-Briggs Family vs. X-Gen for the CMV Tornado Tag Team championship!
-Duke vs. Elijah Stewart in a Last Man Standing match!
-Andrew Briggs vs. Kristopher Ann vs. Shanaz Andoni (c) for the CMV Light Heavyweight championship!
-Morgan Jackson (c) vs. Chris Andrews for the CMV International championship!
-Nick Blake vs. Billy Weaver in a Falls Count Anywhere match!
-Fury (c) vs. Quinn-Belle inside of Hell in a Cell for the CMV Vixens championship!
-Randy Borton vs. Kendall Wolfe!
-Jacob Ziegler vs. Xander Slate!
----- ----- ----- ----- -----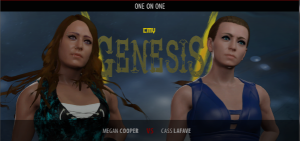 Megan Cooper has been being lobbied hard by former General Manager Cole Savage to engage Cass LaFave at Purgatory but alas, LaFave wants nothing to do with it. Perhaps the opening match on Genesis will change her mind as these two bad-ass Vixen's take eachother on to kick-off the show.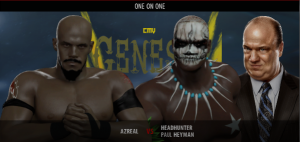 It appears the Anonymous General manager wastes no time breaking in new talent as, from the outside looking in, it appears newcomer Azreal is being fed to the dogs as he takes on the mammoth Headhunter with his manager, the loud mouth Paul Heyman. Can the new blood keep his blood on the inside or will Headhunter ruin the superstar's debut?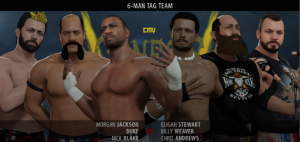 It's the battle of the Purgatory rivalries. For weeks now, former UnMatched Superstar Nick Blake has warred with the returning Billy Weaver. But tonight they've picked their teams and prepare to battle each in a 6-man tag team match. Duke Briggs stands across the ring from Eligah Stewart in anticipation of their Last Man Standing match and Chris Andrew teams with Stewart and Weaver to pick up momentum for his upcoming title match for the International Championship against Morgan Jackson. Which team can grab the victory and hopefully help assure their victories come Purgatory?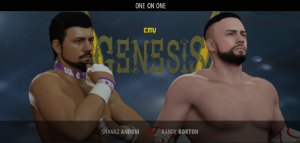 Randall Keith Borton takes on the Light Heavyweight Champion Shanaz Andoni just days before his match with 2018 Royal Rumble winner Kendall Wolfe. Can either men pick up the momentum for their anticipated matches at Purgatory? Find out on Genesis!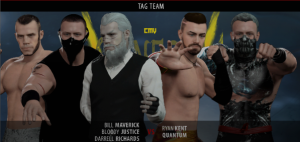 XGEN, in the form of Quantum and Ryan Kent, face impossible odds as they take on the entire team of the Unholy Alliance. This match is sure to be hellish as Quantum, the Hell Hound takes on Bill Maverick, the man quite possible from hell. These two teams collide like mac trucks in this extreme Handicap match.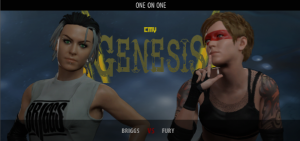 Its round two for Big Bad Briggs as she takes on Fury for the second time this month on Genesis. Let's see if Briggs can't beat the Champion and perhaps allow her to bump herself up in the contenders list. Or perhaps Fury will defeat Briggs and only push her that much harder to defeat Quinn-Belle at Purgatory.
Main Event
In a Steel Cage match, former International Champion Jimmaurie Williams will take on one half of Extreme Conditions Matt Jefferson in what we all assume is Jefferson's specialty. The rules are simple as always, climb over the top of the cage and land with both feet on the other side. But who will cross the barrier of the relentless Steel Cage and who will score the momentum moving forward in their careers?
Last edited by TimLaFave on Fri May 27, 2016 10:51 am; edited 1 time in total
_________________
IT'S TIME
Main Event Star!





Posts

: 2214


Join date

: 2015-08-29


Age

: 25


Location

: New York


Humor

: Slapstick



Tim you're killing me with your multiple shades of orange
_________________
GT: Alveuss
(I may or may not add you back)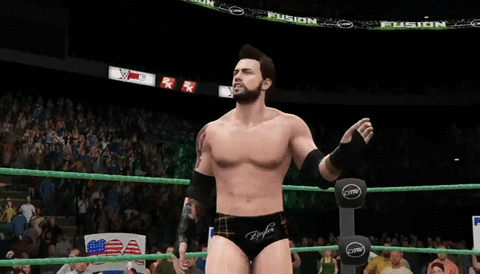 Jacob Ziegler
- 2x Anarchy Champion, 1x Mr Money in the Bank, 1x BFF of Shane Scott, 2017 Newcomer of the Year
Rubik
- 1x Light Heavyweight Champion
Main Event Star!





Posts

: 1006


Join date

: 2015-11-29


Age

: 21


Location

: Glasgow, Scotland


Humor

: Dashing's droopy eye



_________________
IT'S TIME
Main Event Star!





Posts

: 2214


Join date

: 2015-08-29


Age

: 25


Location

: New York


Humor

: Slapstick



nice 6 man tag team match up, wonder if we`ll see Tim Vs Topher's caws once again.
_________________
1x CMV Television Champion - Top's Newsome
1x CMV Womens Undisputed Champion - Quinn-Belle
1x CMV Vixens Champion - Quinn-Belle
1x CMV Undisputed Champion - Chris Andrews
1x CMV International Champion - Chris Andrews
2x CMV Anarchy Champion - Chris Andrews
1x CMV Wold Tag Team Champion (Divine Affairs w/Paul Divine but Divine vacated his tag belt, making Brit Solo Tag Team Champ)
1x CMV Womans Intercontinental Champion - Dawn Bryan
1x CMV Tag Team Champion - Kid Campbell (Gladiators w/ Rashad Rockwell)
2x CMV Light Heavyweight Champion - El Jefe
1x CMV Tag Team Champion - Don Bishop (The Wanderers w/ Gavin Extreme)
Main Event Star!





Posts

: 3504


Join date

: 2015-12-11


Location

: (NEAR)... Leeds, England


Humor

: yes :D



I blinked and all of a sudden Rex Carter isn't relevant anymore.
_________________
Accomplishments :

2018 Heel of the Year as Schmidty
2018 Newcomer of the Year as Schmidty
2018 Face of the Year as Bob Luger
2018 Promoer of the Year
1x European Champion as Schmidty
2x United States Champion as Schmidty
1x Undisputed Champion as Schmidty (current)
1x Alpha World Champion as Bob Luger
1x Dashing's ride or die chick
Main Event Star!





Posts

: 3252


Join date

: 2015-09-19


Age

: 21



I blinked then all of a sudden I see Rex Carter on top of me
_________________
Main Event Star!





Posts

: 2627


Join date

: 2015-05-13


Age

: 18


Location

: Ontario, Canada


Humor

: Dashing's jokes



Monday right? If so, I'll be there!
_________________
My Characters
Rage - Current CMV Global Champion
Cassie Maverick - 2x IC Champion, 2x Vixen's Champion
Mr. Showtime - Former Tag Team Champion
Bill Maverick
Gluttony
The Jezebels (Susanna and Valderiss)
Main Event Star!





Posts

: 1064


Join date

: 2015-09-13



Hope i don't miss this

MJ's gonna be main eventing so gonna make sure to be there
_________________
MATT "MJ" JEFFERSON
Second Annual CMV tag team cup winner (with Eric Thunder)
CMV World tag team champion (1 time with Eric Thunder)
AURA
ERIC THUNDER
Second Annual CMV tag team cup winner (With Matt Jefferson)
CMV World tag team champion (1 time with Matt Jefferson)
LEX NIGHT
BJORN WOLFFE
RACHEL GRANT
ZACH SMITH
Midcard Playboy





Posts

: 478


Join date

: 2016-01-14


Age

: 17


Location

: Nunya



zquet wrote:Hope i don't miss this

MJ's gonna be main eventing so gonna make sure to be there
where's that aura promo tho
Admin





Posts

: 5937


Join date

: 2015-03-09


Age

: 20


Location

: MizTV


Humor

: Making Sons uncomfortable



Page 1 of 6 • 1, 2, 3, 4, 5, 6

---
Permissions in this forum:
You
cannot
reply to topics in this forum