Fusion & Genesis PPV List!
-Battle Scars
-Anarchy Rulz
-Exodus
-CyberSlam
-Validation
-Point Break
-Regicide
-Cause & Effect
-Home Coming
Fusion/Genesis Superstar of the Week!
Page 2 of 11 •

1, 2, 3, ... 9, 10, 11

Regardless of who you think will win in the main event tonight, who do you think is the greatest CMV superstar of all time?
Bj and Mj
Thunder
Quinn
Ace
Andrews
Valentine

Bob Luger
Web
Borton
Billy
Azreal
Jade and Cass
Slate
Parker
Quantum
Sane
_________________
"Men don't shave, they wax." - Everyone
Main Event Star!





Posts

: 2601


Join date

: 2015-09-19


Age

: 21



The Mega Big Pre-DIQ-tions; You Ready? Les' Go!

Match 1!
Bannon and MJ Warrior will tie up; MJ will get the advantage, then Bannon, than MJ, the hold will break because the Stamina for the Collar-and-Elbow tie-up will die out. Then Bannon will toss MJ into the ropes to the right. With a mighty clothesline he'll knock MJ off the apron and Headhunter will go to the mat to meet him. Bannon, does the crotch-chop and flip off Bloody Justice who will get into the ring but not before Cone pulls a crowbar out and threatens BJ to get back on the apron. Bannon will laugh hardily as while on the outside, Headhunter has already put MJ into a solid, triangle choke and like CM Punk, taps like a bitch. Cone's like "HEY! FUCK TARD! IN THE RING!" to which Headhunter nods and releases the submission, he rolls MJ into the ring and Bannon hits the Ban Hammer. BJ slips into the ring but not before Cone hit him in the face with the aforementioned crowbar. John drops the bar and counts the three. Bannon and Headhunter goin' win.

MATCH 2!
Everyone dies in the ring at once from synchronized heart failures and the Light Heavyweight Championship is sent over seas to Echo who is still in the military in 2018. No contest.

MATCH 3!
Angelica Jones starts the match with a solid booty-poppin' moonsault to no one, she slams her face into the mat and Quinn-Botch breaks a heel in the ring and falls onto Jones, she lifts Jones leg for the pin but Cone is face palming so hard Quinn doesn't realize Angelica is still facedown. Kitty stands up unsteadily, her broken heel giving her trouble and Jones jumps to her feet! Her Comeback activated. Maurie presses "Y" and Angelica does the Botch Comeback where she irish whips Quinn into the ropes, ducks a clothes line, attempts to duck another but they end up knocking heads. John gets to a 9 count before Quinn activates her Comeback, breaks her other heel and falls into the pin, securing the 3 count.

MATCH 3!
Ziegler and Ace begin the match with a solid collar-and-elbow tie up. But they both release it simultaneously when they realize the idea of "winner" and "loser" is subjective. Ziegler rolls out of the ring and pulls a wooden table out, not the folding ones that break for these type of events, no... A solid, oak table. He slides in into the ring and Ace tugs it to the center. Next Ziegler puts the legs into the ring and rolls back in. For the next 13 minutes, Ace and Jake assemble this lovely oak table. When the legs are properly attached Ziegler rolls out of the ring again and slides in some camping chairs. Red and Blue. Ace picks up the blue one and Ziegler says: "Hey!" Ace is like: "What?" Jake responds: "I like blue." Stephens retorts: "Nah." Ziegler is like: "BITCH! I bought the RED chair from Tractor Supply SPECIFICALLY for you!" Acey-Baby says: I hate red. Zieglepuss responds: "BITCH! You're wearing red! RIGHT NOW!" Ace is like: "Nah." So Ziegler, in his unbridled fury, toe kicks Ace, hooks both arms and slams his face into the canvas. Ziegler flips over Ace and hooks the leg. John, who has fallen asleep, wakes up when he hears the incredible impact of the pedigree. He rushes the pinfall and counts ONE! TWO! but Ace kicks out! Ziegler flips the oak table, but stops when he realizes it's REALLY heavy and instead picks up the folded camping chair and hits Ace in the back of the head. He flips over Ace and pins him again. John counts again. One! Two! Three! GgnoRe. Ziegler-The-Zieglepuss wins the Champion of Tables Championship.

MATCH 4!
Chris Andrews starts the match by farting and Shiloh by picking his nose. The true battle of champions begins by Chris fanning the fart stench over to Shiloh with his hand and Shiloh flicking his booger over to Chris. *Smack* right into the eye. Just as Shiloh goes for a wicked clothesline, the odor of Andrews' fart stops Gray in his tracks. And Andrews hits the Sodomy Suplex, breaking Shiloh's neck and ending his career. The ref throws up that cheeky "X" and Chris Andrews wins for being too savage, all day, urryday.

MATCH 5!
Nick Blake runs at Sammy-boy-the-chinchilla full-throttle. And is caught with a wicked side kick. Sam goes for the pin but is broken up by Savage who is yelling at Sam in French for some reason. Suddenly we hear: Sierra, Tango, Delta, Echo, Chinchilla... Friends of Cole Savage... And "Spec Ops" by CFO$ plays and Miss Roxanne, Kurasuke and Marley come from under the ring and climb onto the apron. With haste and grim dignity, Sam goes for Miss Roxanne first, he tries to plant a kiss, but she knees him in the dick. Then Marley does a cheeky springboard knee and breaks Sam's nose. And then Kurasuke opens a portal and takes Sam to his 11th birthday where one kid called him fat that one time. When Sam returns to 2018 Nick Blake is standing poised for that Head Trauma, and with his sight blinded by tears of the past, nose smashed like a beer can; and dick broken like a twig, Nick hits his Trauma of the Head knocking Sam out cold. All at once, Savage, Kassell, Kurasuke, Roxanne and Blake lay on top of Sam and John counts for the 3.

MATCH 6!
Bob Luger runs down to the ring for his mystery match and does some squats or something, I don't know. John calls him a queer and tells him Lex isn't his real dad. The music hits.

It's HEY HO FELLA by CSGO$ and out comes the Norriest of Scotts. But somethings different. He's a fucking robot! Edith says in her incredibly shrill, ear bleeding voice: Introducing. Weighing at 2 tons and standing at a height of 5 foot 8, it's Neo Norrie. Bob, lost in thought about the idea that Lex may not truly be his father, doesn't notice when Scott gives him a punch to the stomach, causing it to explode. Coughing blood, Luger wobbles to his feet. Neo Norrie tells him the truth. "Lex is not your father, Robert. I AM!" and Bob laughs and kicks him in the robo-nuts. And in an instance, Neo Norrie falls apart. With a solid punt, Bob kicks Neo Norrie's head into the audience and they proceed to bounce it like a beach ball before CMV Security escorts Bob out introducing a foreign object into the crowd. With Neo Norrie's Body, Legs and Arms still in the ring, Luger gets counted out and Neo Norrie wins.

MATCH 7!
Duo and Bison perform the Fusion dance before WEB arrive and forme the Two-Guy. (Get it? Duo = Two, Bi = Two). Standing at 14 feet and weighing a combined weight of whatever the fuck duo and bison weigh, WEB have no choice but to piss their drawers and leave the arena in fear. Two-Guy then has a mini-freak out because he has two brains in one skull and punts John Cone into the crowd where they bounce him around like a beachball. Tim LaFave comes out to fight the beast, but Two-Guy stomps on him, killing him. Then Eligah comes out to take the AAO hat but is also stomped on. Bob Luger comes back to throw a treadmill at Two-Guy but, like the others, is stomped on. Quantum makes note of the carnage going on in the main arena and reverses time. He stops time before Bison and Duo fuse and tells Dinkle to Cannon Ball kick both Duo and Bison by swinging on the rope that broke and killed Owen Hart and Dinkle agrees. Quantum unfreezes time and Dinkle does his thing. Instead of a successful Cannon Ball kick to interrupt the fusion. The wire snaps and Dinkle breaks his jaw on the ring post, killing him instantly. Duo and Bison realize that the trauma of watching Dinkle die before them was too much and they honor his name by fighting WEB as a tag team and not a fusion. WEB wins.

MATCH 8!
In a grand entrance, Borton enters the ring completely naked and only covered by a thick coating of fresh 2% milk. Novak enters riding on a rocker powered Baseball bat. The top of the bat catches the Top Rope and flings Novak into Borton who catches him for a pop-up Borto end, securing him the win as senior official Cohn Jone comes out to make the 3 count.

MATCH 9!
Grizzlepuss waddles to the ring like a penguin and Billy comes from the crowd as 'The Truth Reigns' by CFO$ plays. They meet in the center and Cohn tells them to kiss before fighting. Billy superkicks Cohn in the face and Grizzlepuss picks up Weaver, but not before Weaver spits in the eyes of Grizzly. Billy drops to his feet and whips out his phone. Grizzly, blinded by the chaw spit of Billy plays Marko Polo with Billy while he's on the phone. After 8 minutes of blindly wandering around the inside of the ring. Billy steps outside the ring and sits next to Dashing while smoking a cigarette. Dashing is all: "Yo, what was that call." Billy simply responds. "Don't worry about it." 20 minutes later, Grizzly is now inside the crowd, feeling peoples faces, trying to find the legendary beard of Billy. Just then! An 18 wheeler horn is heard and a rickety old pick-up truck, with a confederate flag on the doors barrels through the audience and slams into Grizzly, propelling his fat ass into the ring, unconscious. Billy puts his 34th cigarette out on Dashing's head and rushes into the ring for the 3 count. Cohn wakes up and counts. Billy wins! In a real-good feel-good moment Billy waves to the driver of the pick-up and it's none other than Rex Carter and Derrick Hartmen.

MATCH 10!
Azreal superkicks Tim and he wins.

MATCH 11!
Alright I'm exhausted. No follow through
Cass and Jade def. Cooper and Roxanne

MATCH12!
Pierre def. Xander

MATCH 14!
Sushi and Quantum win together.

MATCH 15!
Hay-Hay goin' nowhere.

Notes
I willfully ignored Andrews v. Parker. DW.

So hyped for this show breh.
_________________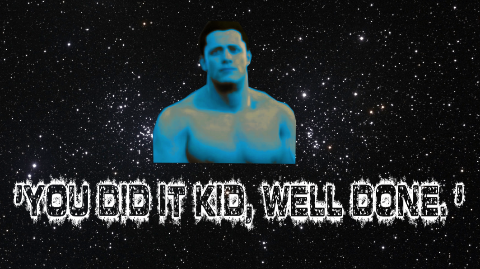 Follow Nick Bunn at @AgainstAllOdds on
Main Event Star!





Posts

: 1901


Join date

: 2015-08-29


Age

: 25


Location

: New York


Humor

: Slapstick



Oh my gosh, feel like Tim should auto win.
Admin





Posts

: 3624


Join date

: 2015-03-08


Age

: 20


Location

: The Hood


Humor

: Knock knock!



Ain't Angelica Jones v Kitty QuinnBelle a submission match tho...
_________________

Accomplishment:
Crowe - Anarchy Championship (1x) 2 Weeks
Main Event Star!





Posts

: 2471


Join date

: 2015-05-13


Age

: 18


Location

: Ontario, Canada


Humor

: Dashing's jokes



Well it says it is, but I'm probably in the wrong here.
_________________

Accomplishment:
Crowe - Anarchy Championship (1x) 2 Weeks
-----------------------------The Joke--------------------->
O<-Hellish's head
_________________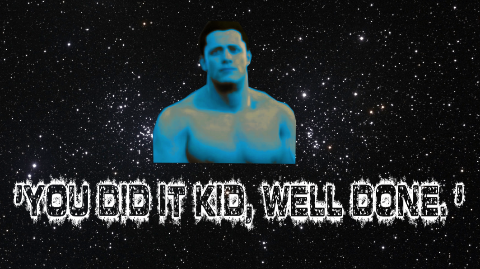 Follow Nick Bunn at @AgainstAllOdds on
Main Event Star!





Posts

: 1901


Join date

: 2015-08-29


Age

: 25


Location

: New York


Humor

: Slapstick



_________________

Accomplishment:
Crowe - Anarchy Championship (1x) 2 Weeks
Pre show predictions warriors justice, Ryan Kent, Quinn-Belle, Zeigler,  Andrews aka the Bloody Brit, Nick Blake. Main show predictions Bob luger,  the empire of pain, Borton, Billy weaver, Tim Lafave, Cass and divine, slate, Andrews, quantum, hayden jump cutters I say 3.
Page 2 of 11 •

1, 2, 3, ... 9, 10, 11


Similar topics
---
Permissions in this forum:
You
cannot
reply to topics in this forum