Fusion & Genesis PPV List!
-King of the Ring
-Exodus
-CyberSlam
-Tag Team Cup
-Validation
-Dark Carnival
-Point Break
-Regicide
-Wild Card
-Absolution
-Emergence
-Home Coming
-Cause & Effect
-Final Resolution
-Purgatory
-Ascendance
Fusion/Genesis Superstar of the Week!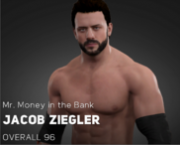 Page 1 of 3 • 1, 2, 3

How did you enjoy Season 3?
GENESIS #59!
LIVE from the MIAMI BEACH CONVENTION CENTER in MIAMI, FLORIDA!!!
\ - - - | - - - | - - - /

Exodus card thus far!
(Subject to change.)
-Elimination Chamber for the CMV Alpha World Championship! (Andrew Briggs, Bob Luger, Furious Frank, Randy Borton, Ryan Kent & Tim LaFave)
-Cole Savage vs. JustIN Sane!
-Fusion Elimination Chamber match! (Jacob Ziegler, Sam Valentine, Billy Weaver, Marcantel, Bannon & Chris Andrews)
-Troy Voodoo vs. Quantum!
-CMV Vixens championship Elimination Chamber match! (Jade Divine (c), Fury, Rose Punish, Amber Briggs, Quinn-Belle & Megan Cooper)
-Iron Man match! (Troy Meyers vs. Jay Davis)
-Shiloh Gray vs. Kenji Murakami! [PRE-SHOW]
-The Fallen vs. Extreme Conditions!
-Morgan Black, Angelica Jones & Amanda Davis vs. Tammy Terry, Dix & Cox! [PRE-SHOW]
-WEB vs. Kevin Lee & The Empire of Pain! [PRE-SHOW]
-Atonement vs. The Blood Brothers (c) for the CMV Tornado Tag Team championship! [PRE-SHOW]
-Azreal (c) vs. Bryan Novak for the CMV International championship!
-Ace Stephens vs. ???!
-Xander Slate, Nick Blake & Mike Grizzly vs. Cobalt Ketchup, Jaxon Jordan & Pierre Thompson!
-D'Angelo Prince vs. Eligah Stewart! [PRE-SHOW]

\ - - - | - - - | - - - /
Ladies and Gentlemen, it's been a great Season! And this will be the last Genesis until 2K17 comes out, so tune in tomorrow between 5 and 8PM Eastern Standard Time to watch the final non-pay-per-view broadcast for CommunityUniverse. And then tune in on Sunday for the final pay-per-view of the Season! You won't wanna miss it!
\ - - - | - - - | - - - /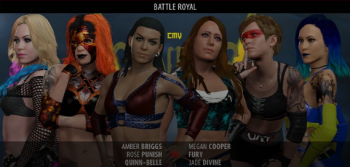 The Ladies of the Elimination Chamber take each other on in one of two 6 person over-the-top Battle Royal scheduled for tonight. The winner here shows their survivor instinct in multi-man match situations. But with Jade's last time in a match like this; history may already dictate the victor.
Light Heavyweight Championship Match!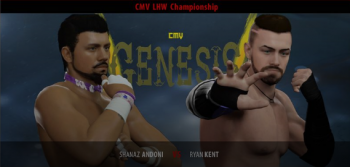 Once again, Ryan Kent puts his Light Heavyweight Championship on the line for anyone under the Light Heavyweight banner. Who else would step up than the extravagant one and Chicken Leash entrepreneur; Shanaz Andoni. And what a statement it would be for Shanaz if, on the last Genesis of the Season, the Light Heavyweight Championship changed hands.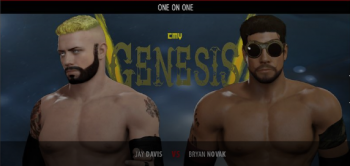 Jay Davis gets to fight the legendardy Bryan Novak tonight in what will be the biggest match of his career. Beating a former Undisputed Heavyweight Champion would certainly put Mr. Davis on the map; but not being knocked out by Novak's Novakain is a tall-order.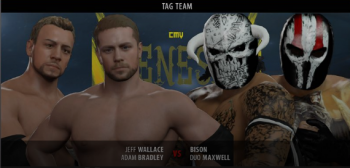 On Week 2, T & Lee returned to defeat the current World Tag Team Champions in The Empire of Pain. Then WEB would defeat T & Lee. Now, WEB get to take on the men who took their belts to begin with once again. But after losing to T & Lee and WEB winning against the team that beat them. The results for this match seems all but conclusive...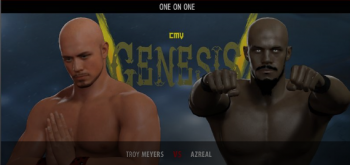 Troy Meyers gets the opportunity of his career by battling against the current International Champion in Azreal. Azreal, a fierce competitor, will surely not pull any punches on the Rookie, but a victory for Troy will certainly put him on the list for a future title shot.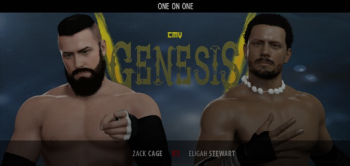 Zack Cage, coming off a loss against Ryan Kent takes on Eligah Stewart in singles competition. Going into Season 4, any momentum is good momentum. But who will grab it and the victory tonight?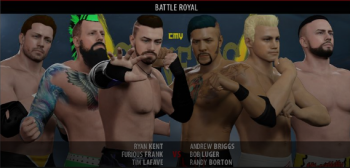 In our Main Event, the 6-men of the Elimination Chamber for Genesis' upcoming PPV take place in the second Battle Royal of the night. Of course the winner of the Chamber match come Sunday will be crowned the first CMV Alpha Champion and that honor will be set in the annals of CMV History forever. Additionally, outlasting 5 other competitors in this competition will give the winner a much needed boost and the 6-spot in the Elimination Chamber. However, the 5 through 1 spots will be determined by the order the superstars are eliminated.

YOU FUCKING SON OF A BITCH!

... Don't forget! The Live Event hosted on the CMVNetwork following the Main Card;
= Aaron Winters v. D'angelo Prince =
= Tammy Terry v. Amanda Davis w/ Angelico Jones =
= Teddy Soloway v. Bob Storm II (Falls Count Anywhere) =
= I'm a !winner Match =
Last edited by Dirty Hairy on Wed Oct 05, 2016 5:05 pm; edited 3 times in total
_________________
IT'S TIME
Tim going to get eliminated in 12.3 seconds.
_________________
IT'S TIME
The women's champion OPENING the show? RIP Echo
Admin





Posts

: 5938


Join date

: 2015-03-09


Age

: 20


Location

: MizTV


Humor

: Making Sons uncomfortable



Admin





Posts

: 4223


Join date

: 2015-03-08


Age

: 20


Location

: The Hood


Humor

: Knock knock!



I been waiting all day for this
_________________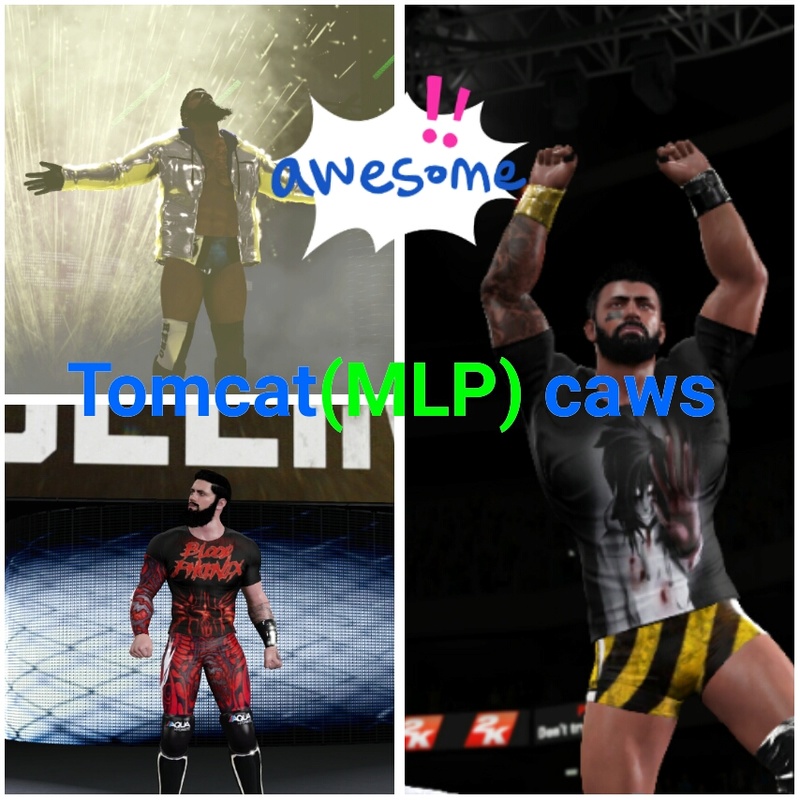 Main Event Star!





Posts

: 932


Join date

: 2016-06-10


Age

: 13


Location

: Cordele, Georgia


Humor

: people getting hurt



Well I'm sorry. NBA 2K17 > Card Writing
_________________
IT'S TIME
Mr. Dashing wrote:*Vixens
Best answer my pm before I get home and do it myself.
Admin





Posts

: 5938


Join date

: 2015-03-09


Age

: 20


Location

: MizTV


Humor

: Making Sons uncomfortable



> Threatning the head admin
Admin





Posts

: 4223


Join date

: 2015-03-08


Age

: 20


Location

: The Hood


Humor

: Knock knock!



I MEAN YOU HAVE BEEN IGNORING ME ALL DAY
Admin





Posts

: 5938


Join date

: 2015-03-09


Age

: 20


Location

: MizTV


Humor

: Making Sons uncomfortable



Page 1 of 3 • 1, 2, 3

---
Permissions in this forum:
You
cannot
reply to topics in this forum