Fusion & Genesis PPV List!
-Battlescars
-King of the Ring
-Exodus
-CyberSlam
-Tag Team Cup
-Validation
-Dark Carnival
-Point Break
-Regicide
-Wild Card
-Absolution
-Emergence
-Home Coming
-Cause & Effect
-Final Resolution
-Purgatory
-Ascendance
Fusion/Genesis Superstar of the Week!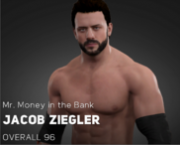 We are outside, a full moon lights up the sky at night as a mist sweeps over the floor as it rises… The Puppet Master Top's Newsome is seen near a bin, he takes off his entrance gear. looks at it, shakes his head and throws it in the bin, he then starts pouring gasoline over it and takes a lighter, he flicks it to ignite it and throws it in causing the jacket to burn.


Top's : Should I be happy or should I be sad…. For you see I may have lost at Contingency in the Global title match, but not all was lost… The day of reckoning I warned everyone about took place and we all bare witnessed to my Puppet of Mass destruction….. She's not just my Puppet, she is also my Gremlin and she  is known as Pandora… The last thing everyone saw at Contingency was The Gremlin destroying Jade Dynamite who was set to become the new Woman's Champion, but Pandora had other plans, she chose her  1st victim, but don't worry she may have been the first, but by no means will she be the last, this is just the beginning ,she`ll destroy the woman's division… She will terrorize and take their souls one by one.
But where are you my puppet, Gremlin show yourself…. Let the whole world see what awaits them… I have a gift.


Pandora appears through the mist as she looks on tilting her head.

Tops : Ah there you are, I have a gift for your actions at Contingency…. Trust me, you will look even more beautiful.... Do you trust me????


Pandora leans forward as The Puppet master puts on a mask over the Puppets head…. Pandora somewhat smiles, if you can call it that, then her hand reaches up to feel the leathery mask on her face and once again twitches.


Tops : Perfect, I knew you would like it…. Now go….go strike fear into anyone who stands in your way…

Pandora, still twitching, nods, and walks off back into the mist.

Tops : Intensity… A place fitting for The Puppet Master as only I personify the meaning of intensity…. All these wannabe puppets trying to steal the spotlight from me, guys like Mugen, Aaron Waite, Nick Starr, Eric Matthews and the list goes on and on… I don't take kindly to people stealing from me, I'm The Puppet Master,  I DESERVE THE GLOBAL TITLE. That title should be around my waist and sooner than later it will, The Puppet Master is here, I'll always be here and when the time is right you will all receive NO…………STRINGS …………..ATTACHED.,,,,,,,,,,,,,Trust Me!!!

Last edited by topher316 on Mon Oct 17, 2016 8:23 pm; edited 2 times in total
_________________
1x CMV Television Champion - Top's Newsome
1x CMV Womens Undisputed Champion - Quinn-Belle
1x CMV Vixens Champion - Quinn-Belle
1x CMV Undisputed Champion - Chris Andrews
1x CMV International Champion - Chris Andrews
2x CMV Anarchy Champion - Chris Andrews
1x CMV Wold Tag Team Champion (Divine Affairs w/Paul Divine but Divine vacated his tag belt, making Brit Solo Tag Team Champ)
1x CMV Womans Intercontinental Champion - Dawn Bryan
1x CMV Tag Team Champion - Kid Campbell (Gladiators w/ Rashad Rockwell)
2x CMV Light Heavyweight Champion - El Jefe
1x CMV Tag Team Champion - Don Bishop (The Wanderers w/ Gavin Extreme)
Main Event Star!





Posts

: 3542


Join date

: 2015-12-11


Location

: (NEAR)... Leeds, England


Humor

: yes :D



Dynamite didn't win the belt tho, the match got called off due to the interruption

Nice promo tho
Admin





Posts

: 5954


Join date

: 2015-03-09


Age

: 20


Location

: MizTV


Humor

: Making Sons uncomfortable



well damn.... not to worry, will just edit it.... and thanks
_________________
1x CMV Television Champion - Top's Newsome
1x CMV Womens Undisputed Champion - Quinn-Belle
1x CMV Vixens Champion - Quinn-Belle
1x CMV Undisputed Champion - Chris Andrews
1x CMV International Champion - Chris Andrews
2x CMV Anarchy Champion - Chris Andrews
1x CMV Wold Tag Team Champion (Divine Affairs w/Paul Divine but Divine vacated his tag belt, making Brit Solo Tag Team Champ)
1x CMV Womans Intercontinental Champion - Dawn Bryan
1x CMV Tag Team Champion - Kid Campbell (Gladiators w/ Rashad Rockwell)
2x CMV Light Heavyweight Champion - El Jefe
1x CMV Tag Team Champion - Don Bishop (The Wanderers w/ Gavin Extreme)
Main Event Star!





Posts

: 3542


Join date

: 2015-12-11


Location

: (NEAR)... Leeds, England


Humor

: yes :D



---
Permissions in this forum:
You
cannot
reply to topics in this forum