Fusion & Genesis PPV List!
-Battle Scars
-Anarchy Rulz
-Exodus
-CyberSlam
-Validation
-Point Break
-Regicide
-Cause & Effect
Fusion/Genesis Superstar of the Week!
Page 1 of 9 • 1, 2, 3, 4, 5, 6, 7, 8, 9

Which championship match are you most excited for at CyberSlam?
CMV CyberSlam: Episode 158!
LIVE from the Agganis Arena in Boston, Massachusetts!!!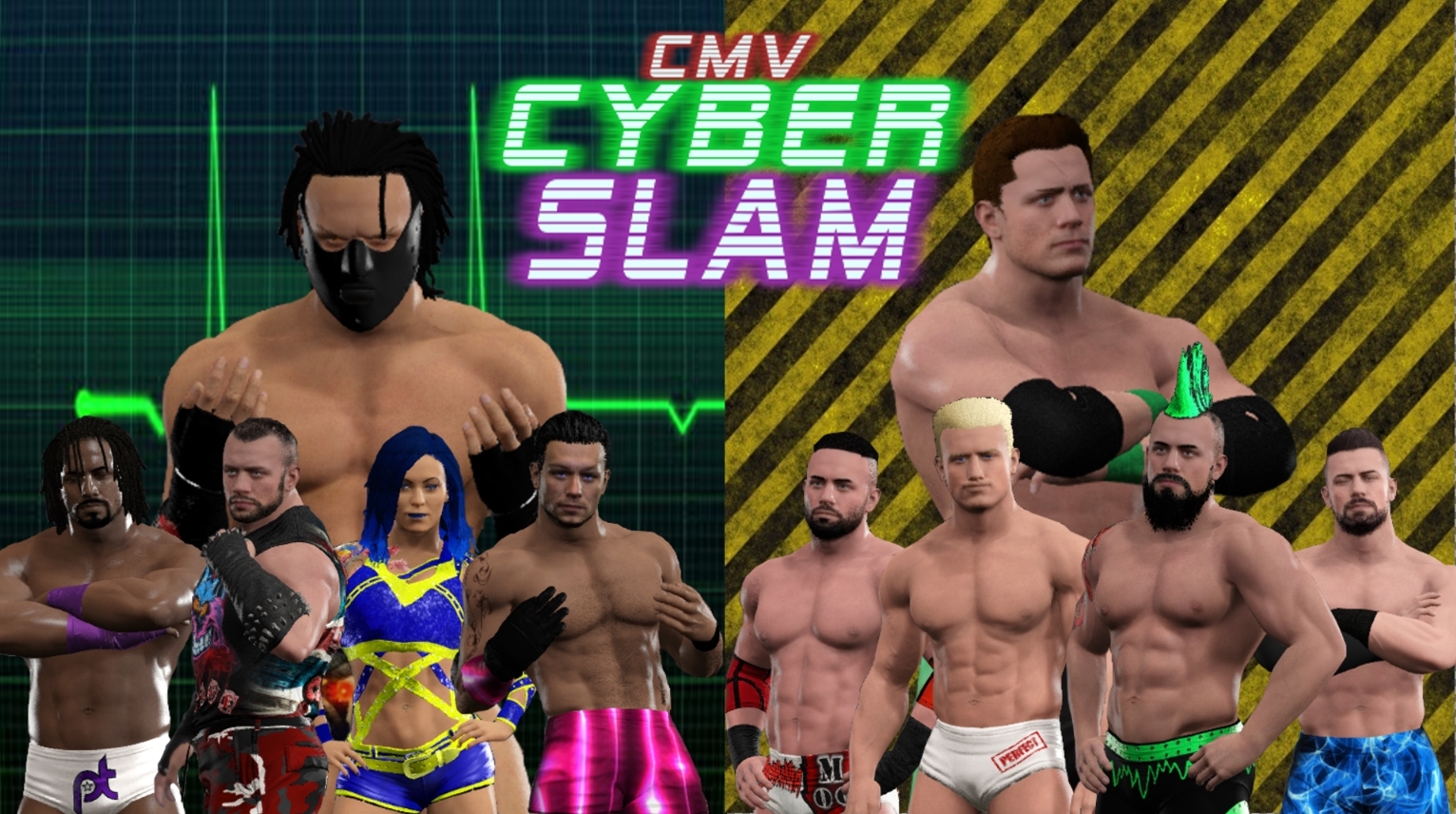 ----- ----- ----- ----- -----
PRE-SHOW!
CMV Light Heavyweight championship!
Winner faces Tim LaFave for the CMV Alpha World championship on the main card!
THREE STAGES OF HELL!
Falls Count Anywhere
Steel Cage
Last Man Standing
LOSER LEAVES FUSION!
----- ----- ----- ----- -----
Having had enough of being shunned and passed-up for opportunity after opportunity, watching as the years passed them by in CMV's developmental scene, RISE took it upon themselves to get the recognition that they felt they were owed, ambushing The Empire of Pain on the season four premiere of Thursday night Genesis. You know what they say, take out the top dogs in the yard and you're the new boss, the problem is, Bison and Duo Maxwell ain't about to take this rebellion laying down. Despite The Barbarian's severe shoulder injury, our CMV World Tag Team champions have arrived here tonight to do what they do best; whoop some ass!
After battling back from a minor concussion these past few weeks, the CMV Alpha World champion, Tim LaFave, is the one who's left with a bit of an advantage here tonight, as whether it'll be Furious Frank or Bob Luger challenging him for that belt in his first defense, they surely won't be anywhere near 100%.
Nick Blake has seemingly made it his mission in life to dismantle The New Gods member by member, which he's already done away with their leader, Paul Divine, and nearly finished off Rhys Matthews earlier this week. But with the devilish Steel Cage encompassing them, as per Blake's demand to keep out Mike Crimson and Sebastian Frost, will the rookie in Rhys be able to not only get some revenge for himself, but The Asian Sensation too?
Former stablemates go at it here in this one, with the added stipulation that if Bannon wins, The Witch Doctor must obey his every command for the next month, a degrading scenario to say the least. The man once known as Headhunter claims to be the curse to Bannon's cure, but we've seen what CMV's self-proclaimed "miracle" can do to his opponents minds in the past, Witch Doctor being one of his prior victims; can he talk his way to victory once more?
Hoping that their leader in Paul Divine is back to his feet soon and that their brother in arms, Rhys Matthews, can take care of Nick Blake earlier on in the night, Mike Crimson and Sebastian Frost of The New Gods have a huge opportunity here tonight, as the CMV universe has voted them in for a crack at the CMV Tag Team championship! But standing in their way of claiming that prize is the dominant duo of The Black Strike Renegades, Animal and Grid, who've been unstoppable since the start of the new era, and aren't looking to slow their roll any time soon.
Jade Divine has tied Amber Briggs for the longest reign as Vixens champion here tonight, and has also set the record for most title defenses as champion. But if she wishes to continue on in her historic run, she must get passed three of her most bitter rivals to date; Megan Cooper, who holds two non-title victories over America's Sweetheart in recent months, Quinn-Belle, best friend turned worst nightmare, and Fury, who's been on a warpath ever since losing her grip on the belt nearly six months ago. With the possibility present that she won't even have to be pinned to lose the gold here tonight, The Cheeky Japanese Girl must kick it into overdrive, and once again prove all of her doubters wrong with a massive upset.
Monday night Fusion and Thursday night Genesis collide in this bout, as it'll be the undefeated, Dimitri Nurmogomedov, taking on The Catfish King himself, Cobalt Ketchup!
The fans have spoken, and in a landslide, they voted in The Japanese Buzzsaw, Kenji Murakami, to be The Milk Man, Randy Borton's challenger for the CMV International title here tonight! Borton pinned Kenji in that triple threat match three weeks ago to win the prestigious belt, but can he do it again one on one and remain with his crown jewel as The King of Thursday nights?
Apparently the king of pulling double duty at pay-per-views lately, The Bloody Brit, who's (hopefully) still our CMV Anarchy champion, will step into the ring here tonight to claim his reward for his Elimination Chamber victory at Exodus last season. Across from him? Quite possibly and arguably so, the greatest man to ever lace up his boots and grace us with his presence, the reigning, defending, CMV Undisputed Heavyweight champion of the world, JustIN Sane, who's proving more and more with each passing day that he is better than he has EVER been. On track to surpass his own standing record as the longest reigning World champion in this companies history, could Chris Andrews be the man to finally put a wrench in his gears? Could he walk out of CyberSlam tonight as a double champion? Or without any gold at all? All of these questions and more will be answered with intensity when these two warriors come face to face in our main event!
_________________
1x CMV Anarchy champion
Bludgeon
1x Mr. Money in The Bank, 2x World Heavyweight Champion, Glammy Award for Heel of the Year
Xander Slate
Admin





Posts

: 3443


Join date

: 2015-03-08


Age

: 20


Location

: The Hood


Humor

: Knock knock!



Did someone say; dank asf predictions contest?

IT RETURNS! For the first time this season, leave your predictions down below for who you think will win each match, and if you're the one with the most correct guesses, you'll get that sweet custom-colored name on the site until the next special event and the ability to book one match on Fusion and one match on it's live event plus one match on Genesis and a match on it's live event.

TIE-BREAKER!
Who'll be pinned in the Vixens title fatal-4-way match?
_________________
1x CMV Anarchy champion
Bludgeon
1x Mr. Money in The Bank, 2x World Heavyweight Champion, Glammy Award for Heel of the Year
Xander Slate
Admin





Posts

: 3443


Join date

: 2015-03-08


Age

: 20


Location

: The Hood


Humor

: Knock knock!



Predictions:

Kevin Lee
Ally Cage
Andrews
Grayhounds
Blake
Xander
Luger
Duo/Bison
Luger
Rhys
Bannon
New Gods
Divine
Ketchup
Borton
Sane

Tiebreaker - Fury
Main Event Star!





Posts

: 512


Join date

: 2016-07-22


Age

: 20


Location

: Cardiff, Wales


Humor

: Sarcastic and Adam Sandler



KillJoy def the other 5 men by luck
Ally Cage def Morguan Black
Chris Andrews def Parker
Reed and Maverick def Shiloh and Isaiah
Andrew Briggs def Jeremy Blake
Furious Frank def Bob Luger
Piere Thompson def Xander Slate
Rise def Empire of Pain
Furious Frank def Tim Lafave
Nick Blake def Rhys Matthew
Bannon def TWD
The Black Stripe Renegades def New Gods
Fury def Jade, Megan, and Quinn
Dimitri def Ketchup
Randy Borton def Kenji
Justin Sane def Chris Andrews

Tie Breaker: Fury pins Quinn
_________________

Accomplishment:
Crowe - Anarchy Championship ©
Main Event Star!





Posts

: 583


Join date

: 2016-01-22


Age

: 19


Location

: Ohio



My PreDICKtions

Kevin Lee
Ally Cage
Parker
Reed and Maverick
Andrew Briggs
Bob Luger
Xander Slate
Bison and Duo Maxwell
Bob Luger
Nick Blake
Witch Doctor
Blood Brothers
Fury
Dimitri
Kenji
Chris Andrews

Tie Breaker: Fury def. Quinn Belle

_________________
My Characters
Cassie Maverick - 2x IC Champion, 2x Vixen's Champion
Mr. Showtime - 1X Tag Team Champion
Bill Maverick
Rage
Gluttony
The Jezebels (Susanna and Valderiss)
Main Event Star!





Posts

: 835


Join date

: 2015-09-13



Predictions:
Killjoy
Morgan Black
Chris Andrews
Shiloh and Isaiah
Andrew Briggs
Furious Frank
Xander Slate
Duo/Bison
Tim
Nick Blake
Bannon
Animal & Grid
Quinn Belle
Dimitri Nurmogomedov
Borton
Justin Sane

Tiebreaker; Megan Cooper will get pinned
_________________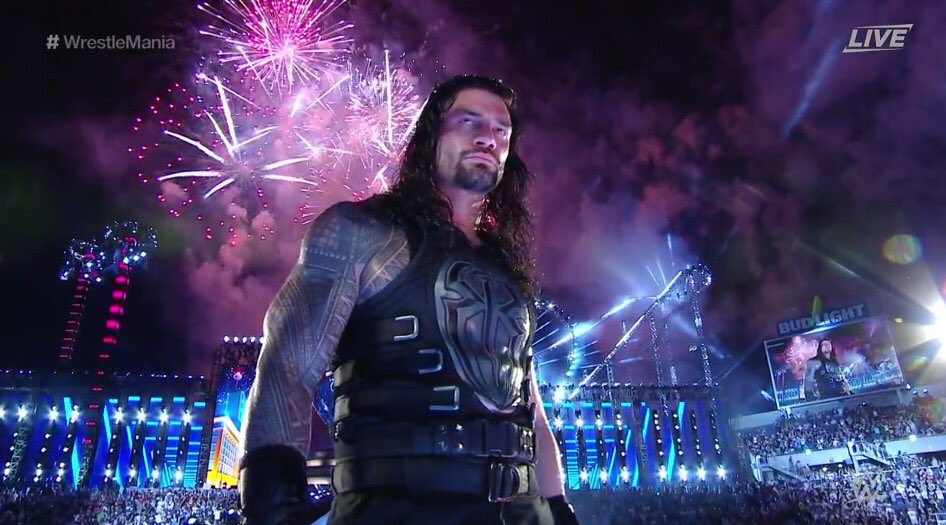 Main Event Star!





Posts

: 2359


Join date

: 2015-05-13


Age

: 18


Location

: Ontario, Canada


Humor

: Dashing's jokes



_________________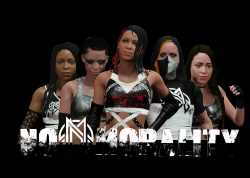 "90 OvR cap"

Admin





Posts

: 5059


Join date

: 2015-03-09


Age

: 20


Location

: MizTV


Humor

: SlymR is Irish



Lee
Black
Parker
Grayhounds
Briggs
Frank
Slate
Rise
Tim
Blake
Bannon
New Gods
Fury
Cobalt
Borton
Sane

Tie - Cooper
_________________
1x CMV Television Champion - Top's Newsome
1x CMV Vixens Champion - Kitty Quinn-Belle
1x CMV International Champion - Chris Andrews
2x CMV Anarchy Champion - Chris Andrews
1x CMV Wold Tag Team Champion (Divine Affairs w/Paul Divine)
1x CMV Womans Intercontinental Champion - Dawn Bryan
1x CMV Tag Team Champion - Kid Campbell (Gladiators w/ Rashad Rockwell)
2x CMV Light Heavyweight Champion - El Jefe
1x CMV Tag Team Champion - Don Bishop (The Wanderers w/ Gavin Extreme)
Main Event Star!





Posts

: 2705


Join date

: 2015-12-11


Age

: 99


Location

: Leeds, England


Humor

: yes :D



Ryan Kent
ALlly Cage
Andrews
Shiloh and Other guy
Jeremy Blake
Bob Luger
Pierre

Empire of Pain (Squash Match)
Luger
Blake
TWD
Grid and smaller Grid
Quinn
Dimitri
Borton
Andrews

TB-Quinn pins Cooper
Last edited by Maurie on Sat Nov 12, 2016 7:53 am; edited 1 time in total
_________________
Luther Thunder: 1x European Champion
Rashad Rockwell:1x Tag Team Champion with Kidd Campbell
Eligah Stewart
: 1x Tag Champion with DJ Moore
Jimmaurie Williams
:  2x CMV International Champion. Debut Episode 109.
Parker: 1x European Champion
Anthony Brown: 1x Television Champion
Main Event Star!





Posts

: 1599


Join date

: 2015-08-18


Age

: 14


Humor

: Jokes



Page 1 of 9 • 1, 2, 3, 4, 5, 6, 7, 8, 9

---
Permissions in this forum:
You
cannot
reply to topics in this forum