Fusion & Genesis PPV List!
-Battlescars
-King of the Ring
-Exodus
-CyberSlam
-Tag Team Cup
-Validation
-Dark Carnival
-Point Break
-Regicide
-Wild Card
-Absolution
-Emergence
-Home Coming
-Cause & Effect
-Final Resolution
-Purgatory
-Ascendance
Fusion/Genesis Superstar of the Week!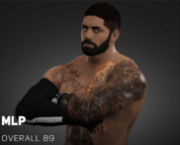 Thunder in Tokyo card so far
Sunshine Vs Leo Cruz
Zack Starr Vs Voice Vindy
DSD Vs Cyborg
Luther Thunder Vs Solomon Glock
Jade Dynamite Vs Pandora
The Wanderers Vs The Cowboys from Hell
Aaron Waite Vs Eric Matthews
Cassie Maverick Vs Ashley Kelly
Casey Wilson Vs Aura
"1 Shot" Leona Vs Rachel Grant
The Gladiators Vs The New Orient Express
Sophia Gibson Vs Sophia Caldwell
Akiko Tanashi Vs Murasaki Ryuu
Marko Punish Vs Thomas Sullivan
Kicking off the show we see one half of our CMV Womens Intercontinental Championship Number One Contenders match in action as she takes on a former Womens Intercontinental Champion in the form of Dawn Bryan in attempt to grab some last minute momentum before her match with Rachel Grant this Sunday. On the flipside Dawn Bryan will be spending this Sunday watching on as her comrade Sophia Gibson goes to war with the leader of No Morality.
In the first of two tag matches of the night we see Rage and Mason Miller team together in an unlikely scenario after Bill Maverick offered Miller an opportunity, however the duo have most certainly not been given an easy match as they'll be facing the current CMV Tag Team Champions in some tag team action tonight. Perhaps a challenge on this scale was set up as a test by Bill Maverick? Only time will tell.
After spending several months in Europe representing CMV following his Money in the Bank win with Cole Savage and Friends representing him back here in CMV, tonight Omega Lee, Mr. Money in the Bank returns to action against a young upstart coming off of a big win over Kevin Payne in the form of Joseph Gregory, can Gregory pull off another upset or will Omega Lee return to CMV with straight fire.
Speaking of unlikely teams, the current CMV Womens Intercontinental Champion Ashley Kelly will team with the former Champion and her opponent at Thunder in Tokyo here tonight ahead of their match only two days later against two members of No Morality, the highflyer in Emily and the leader in Sophia Caldwell as Caldwell looks to build up some momentum before facing Sophia Gibson this Sunday.
In just two days time Aaron Waite has the chance to be the man to lead instensity to glory in less than 48 hours when he challenges Eric Matthews at Thunder in Tokyo, but tonight he has to get past Byron Elliott in some singles action and a chance at some last minute momentum before heading to Japan!
Kicking off the show tonight, Eric Matthews issued an open challenge to the CMV Universe here in New Mexico, and who answered? None other than Marcus Akane, a man looking to make a name for himself tonight, win or lose, jumping straight up from the House Show to the Co-Main Event thanks to this opportunity presented to him by Eric Matthews? But will he capitalise on the situation, or will he come to find out he's bitten off more than he can chew.
In tonights Main Event we see the current CMV Global Champion in action for the final time before his title defense against Voice Vindy in the Main Event of Thunder in Tokyo, but will Kevin Payne provide our Champion with a crippling loss? Or will Zack Starr once again pull it out of nowhere and pick up the win.
House Show
Don Bishop Vs Jesse James
Akiko Tanashi Vs Dirty Diana
Voice Vindy Vs Bryan Sanders

Last edited by Miztacular on Mon Nov 14, 2016 11:18 am; edited 1 time in total
Admin





Posts

: 5956


Join date

: 2015-03-09


Age

: 20


Location

: MizTV


Humor

: Making Sons uncomfortable



This will be live in 8 hours or so and I'll do the UnMatched house show in 49 minutes. Been a busy weekend.
Admin





Posts

: 5956


Join date

: 2015-03-09


Age

: 20


Location

: MizTV


Humor

: Making Sons uncomfortable



_________________
2x World Heavyweight Champion as Kevin Owens
2015 Superstar/Champion Of The Year
2015 NXT King Of The Ring
     2x Hardcore Champion as Kayden Kynra(Former)
     3x NXT Television Champion as Lorin Seoul  (Former)
1x European ChampionLorin Seoul (Former)
1x NXT Tag Team Champion as JLV(Former)
1x World Heavyweight Champion as JLV(Current)
1x Women's Champion as Lexin Damjen (Former)
1x Hardcore Champion as Lexin Damjen  (Current)
OMG! Moment Of The Year: Running into the steel steps as JLV
Midcard Playboy





Posts

: 484


Join date

: 2015-07-01


Age

: 21


Location

: NJ


Humor

: Blunt Cunt



Admin





Posts

: 5956


Join date

: 2015-03-09


Age

: 20


Location

: MizTV


Humor

: Making Sons uncomfortable



literally no time to promo
Main Event Star!





Posts

: 2608


Join date

: 2015-03-09



I mean the last intensity was like, 5 days ago.
Admin





Posts

: 5956


Join date

: 2015-03-09


Age

: 20


Location

: MizTV


Humor

: Making Sons uncomfortable



because five days ago i knew about leona/dawn to promo about it
Main Event Star!





Posts

: 2608


Join date

: 2015-03-09



Admin





Posts

: 5956


Join date

: 2015-03-09


Age

: 20


Location

: MizTV


Humor

: Making Sons uncomfortable



_________________
Main Event Star!





Posts

: 2644


Join date

: 2015-05-13


Age

: 18


Location

: Ontario, Canada


Humor

: Dashing's jokes



---
Permissions in this forum:
You
cannot
reply to topics in this forum