Fusion & Genesis PPV List!
-Battle Scars
-King of the Ring
-Exodus
-CyberSlam
-Tag Team Cup
-Validation
-Dark Carnival
-Point Break
-Regicide
-Wild Card
-Cause & Effect
-Emergence
-Home Coming
-Absolution
-Final Stand
Fusion/Genesis Superstar of the Week!
Who will walk out of UnChained Still Champion
CMV World Championship: Sunshine, DSD, Marko Punish, Parker, Jaymes Landon Vain, Leo Cruz
CMV Womens Championship: Kristen Page, Samantha Steel, Aerora, Jade Divine, Kitty Quinn-Belle, Alexia Stroud
CMV Womens Intercontinental Championship Match: Cassie Maverick Vs Murasaki Ryuu
CMV Television Championship: Eric Matthews, Omega Lee, Anthony Brown, Ringo Maxx, Mason Miller, Logan Hail
CMV Vixens Championship: Megan Cooper Vs Morgan Black
CMV European Championship: Solomon Glock Vs Kid Campbell
Rage Vs Tops Newsome
Teddy Soloway Vs Bryan Sanders
Zack Starr Vs Ricky Spanish
Kurse Vs Phillip Melick
Jon Richards Vs Ethan Kashima
Casey Wilson Vs Maddy Zendran
Tia Powley Vs Pandora

With Jade Divine coming out last, and Kristen Page coming out first, the other four spots need their order decided and tonight they will, first off Alexia Stroud looks takes on Rachel Grant to kick off the show in a match that will set the bar for the other three competitors inside the chamber as they all fight to come out later.
A new competitor makes their debut up next in the form of Alexis Olsen. Effectively thrown to the wolves straight out of the gate as she looks to take on the undefeated Russian Angelina Hawkins, however if there is even a slight chance of Olsen winning, it'll be down to any potential distraction from Mariah who has been exchanging back and forth with Hawkins over recent weeks.
Aerora is up next to try and pickup the quickest time as she takes on one of the members of No Morality in the form of Tia Powley, the loose cannon, who was caught up in a brawl at the top of the show which landed her this match, saving the confrontation with Pandora for the UnChained Pay Per View, but that's not to mean Tia Powley keep her mind off of Pandora, who would surely be looking for one last cheap shot before the PPV.
In the penultimate match in this beat the clock challenge of the night Kitty Quinn-Belle will take on a major challenge in order to set the best time as she takes on a former Womens Champion in the form of Dirty Diana and while this will be a great chance for Quinn to show off her talent this is the not the opponent she wants to come up against in order to set the best time.
With Fury calling out Sophia Caldwell who to her dismay didn't even answer the challenge, she most certainly has some pent up aggression to let out tonight which is not good news for her opponent, the former two time Womens Intercontinental Champion Ashleigh Infinitee, who would surely like to pick up the upset, but she'll have one hell of a mountain to climb.
The final match in this Beat the clock challenge takes place in our Co-Main Event as Samantha Steel looks to put down one of the surprise packages of the season so far in Ashley Kelly in order to come out Number 5 in the chamber, she'll have all night to prepare and watch the other three matches, and with the momentum she's riding after that Dynamite win it wouldn't be surprising to see her pick up the fastest time here tonight.
We've most certainly had combustible teams in the history of CMV, and within the Vixens Division, but tonight, in the main event, all three of the Champions team up to collide with their challengers at UnChained which could lead to some very interesting interactions. Megan Cooper and Cassie Maverick, plain and simply do not like eachother, and Cassie has had her differences with Kristen in the past, but lets not forget, way back, Megan Cooper and Kristen Page had a very deep feud leading to Cooper losing out on several months of her career. This means that the challengers have a solid chance of picking up the win tonight providing these Champions don't mesh.
_________________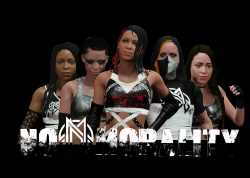 I mean Hawkins and Mariah aint going back and forth, Hawkins beat Mariah, and beat her up with a chair. Mariah tried to impress Hawkins last week and failed. Not back and forth just one sided.
_________________

Accomplishment:
Crowe - Anarchy Championship (1x) 2 Weeks
Tyler Endicot - Rising Star Championship (1x) 2 week
Joe Dirte - NGW Tag Team Championship (1x) © 1 Week
Maximum Rider - NGW Tag Team Championship (1x) © 1 Week
Also calling it now, Stroud loses her match faster than any one else's match.
_________________

Accomplishment:
Crowe - Anarchy Championship (1x) 2 Weeks
Tyler Endicot - Rising Star Championship (1x) 2 week
Joe Dirte - NGW Tag Team Championship (1x) © 1 Week
Maximum Rider - NGW Tag Team Championship (1x) © 1 Week
_________________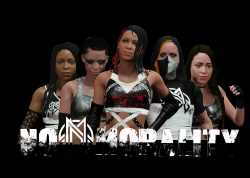 I am never booked anymore. I am still here you know. Just don't have much time.
>Richards has a PPV match.
_________________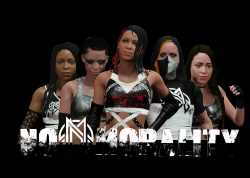 What faith. Every time I give faith to Stroud she fails, I had faith she would win the queen of the Ring and Vixen title I was wrong and she failed me.
_________________

Accomplishment:
Crowe - Anarchy Championship (1x) 2 Weeks
Tyler Endicot - Rising Star Championship (1x) 2 week
Joe Dirte - NGW Tag Team Championship (1x) © 1 Week
Maximum Rider - NGW Tag Team Championship (1x) © 1 Week
Setting up freak bitches<3
_________________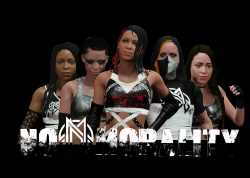 Spoilers:

Alexia Stroud>Rachel Grant (5:15)
Alexis Olsen>Angelina Hawkins (After a pre match attack from Mariah)
Aerora>Tia Powley (3:25)
Quinn-Belle>Dirty Diana [DQ] (4:54)
Fury=Ashleigh Infinitee (Pre Match Attack led to No Contest)
Samantha Steel>Ashley Kelly (5:35)
Jade Divine/Morgan Black/Murasaki Ryuu>Megan Cooper>Cassie Maverick/Kristen Page (Divine Pinned Cooper)
_________________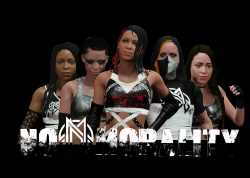 ---
Permissions in this forum:
You
cannot
reply to topics in this forum