Fusion & Genesis PPV List!
-Battlescars
-Anarchy Rulz
-Retaliation
-Requiem
-Exodus
-CyberSlam
-Tag Team Cup
-Validation
-Dark Carnival
-Point Break
-Regicide
-Wild Card
-Absolution
-Emergence
-Home Coming
-Cause & Effect
-Final Resolution
-Purgatory
-Ascendance
Page 1 of 2 • 1, 2

Do you think that Chris Andrews has what it takes to be the next Undisputed champion?
Thursday night Genesis: Episode 76!
LIVE from the Baton Rouge River Center Arena in Baton Rouge, Louisiana!!!Wild Card show thus far!
(Subject to change.)
-Jay Davis & Guri Sukanov vs. New Faces of FEAR!
-??? vs. Extreme Conditions (c) for the CMV World Tag Team championship!
-??? vs. Bannon (c) for the CMV Anarchy championship!
-??? vs. Fatal Decision (c) for the CMV Tag Team championship!
-??? vs. Schmidty (c) for the CMV United States championship![
-??? vs. El Jefe (c) for the CMV Light Heavyweight championship!
-Furious Frank, Ryan Kent & Kayden Kynra vs. Pierre Thompson, Bison & Tim LaFave!
-Mike Crimson vs. Chris Andrews!
-Sam Valentine vs. Jimmaurie Williams!
Cause & Effect card thus far!
(Subject to change.)
-Deadly Games Tournament!
-??? vs. Bob Luger (c) for the CMV Alpha World championship!
-Chris Andrews, Suraci & Tyson Cage vs. The New Gods!
-Guri Sukanov vs. Marcantel!
----- ----- ------ ----- -----
Promising that it won't take long for him to make Genesis his, newcomer, Curtis Heist, will be kicking things off here tonight, as he makes his debut against the reining CMV Light Heavyweight champion, El Jefe, who this Sunday has a blind date at Wild Card with his title on the line.




Preparing to tangle with their foes in Jay Davis and Guri Sukanov of The Hellfire Club this Sunday, The New Faces of FEAR have got quite the opportunity put in front of them here tonight, when they take on the CMV World Tag Team champions, Extreme Conditions, who are looking for that final pick-me-up before their title defense at Wild Card.




To say that Brett Angel was a bit miffed last week after hearing he won't be a part of the Deadly Games tournament at Cause & Effect would be an understatement, the former UnMatched World champion called out Dave Turner and let him know that he won't be disrespected that way. He even went so far as to challenge every single superstar in said tournament, telling the general manager that he'll beat 'em all at once. Turner has complied to that request, pitting The Outcast against Kayden Kynra, Ryan Kent and Furious Frank in a three-on-one handicap match tonight, has Angel bitten of more than he can chew; or will he put an exclamation point on his claims?
After Bryce Hurt spent all of last week's Genesis barraging Twitter trying to catch general manager, Dave Turner's attention, demanding to be booked and treated like the "wrestling royalty" that he is, Turner finally listened, throwing Bryce up against The Barbarian Bison, in a no holds barred match, and after what the self-proclaimed "Star of this Show" did to CMV's resident beast the last time that they went at it, things aren't looking too well for Mr. Hurt.




Following a very close match last week, Nick Blake and Zack Cage were able to hand The Family their first loss since their reformation. Taking issue with that, DJ Moore and Elijah Stewart got in their opponent's faces after the bout and things quickly turned sour. Luckily general manager, Dave Turner, was able to put a lid on it before it got out of hand, announcing that here tonight the two teams will square-off yet again, but under the stipulation of elimination, the winning duo getting a World Tag Team title shot post Wild Card.




The man once known as FEAR will be in action tonight, as he steps into the ring to go one on one with The Japanese Buzzsaw, Kenji Murakami. But after weeks of playing with newcomer, Josh Wolf's, head in an attempt to indoctrinate him into The Unholy Alliance, Maverick had best be on the lookout, the youngblood promising that he'll get ole Bill back for his evil doings.




With the Deadly Games tournament on the horizon, tensions have been high between the eight superstars set to compete in said event. Last week after picking up quite the shock victory over Pierre Thompson in a matter of minutes, Jay Davis, decided that it simply wasn't enough, looking to send a message to the rest of the competitors by relentlessly attacking Primetime with a steel chair. Thankfully, good ole Timmy Boy came to the aid of his buddy, driving The Rebel off and making sure that no permanent damage was done. In tonight's main event, Davis and his ogre of a friend in Guri Sukanov will be seeking to send out yet another clear message, when they go to battle against Thompson and LaFave . . . A cookie and cream type of alliance.

Live Event!
-Alex Taylor vs. Seth Baker
-DRH vs. Rick Reed
-Winner match
Last edited by Mr. Dashing on Wed Mar 15, 2017 6:26 am; edited 1 time in total
_________________
1x CMV Anarchy champion
1x CMV Tag Team champion
Bludgeon
1x Mr. Money in The Bank, 2x World Heavyweight Champion, 1x United States champion, Glammy award for Feud of the Year, Glammy Award for Heel of the Year
Xander Slate
Admin





Posts

: 4344


Join date

: 2015-03-08


Age

: 20


Location

: The Hood


Humor

: Knock knock!



saying cookies and cream is only okay when Suntan or I say it. Racist.
_________________
IT'S TIME
is that Kevin Durant in your profile picture
Main Event Star!





Posts

: 935


Join date

: 2016-06-10



so El Jefe is the reining CMV LHW Champ...... REINING
_________________
1x CMV Television Champion - Top's Newsome
1x CMV Womens Undisputed Champion - Quinn-Belle
1x CMV Vixens Champion - Quinn-Belle
1x CMV Undisputed Champion - Chris Andrews
1x CMV International Champion - Chris Andrews
2x CMV Anarchy Champion - Chris Andrews
1x CMV Wold Tag Team Champion (Divine Affairs w/Paul Divine)
1x CMV Womans Intercontinental Champion - Dawn Bryan
1x CMV Tag Team Champion - Kid Campbell (Gladiators w/ Rashad Rockwell)
2x CMV Light Heavyweight Champion - El Jefe
1x CMV Tag Team Champion - Don Bishop (The Wanderers w/ Gavin Extreme)
1x CMV World Tag Team Champions - Police Squad
Main Event Star!





Posts

: 3688


Join date

: 2015-12-11


Location

: (NEAR)... Leeds, England


Humor

: yes :D



@Tops He's the reining, descending, undispooted, lite bantawait champaign of the werld

@Tom No, Trevor Booker
_________________
IT'S TIME
I own tim now. Tim gave him to me.
_________________
Accomplishments :

2018 Heel of the Year as Schmidty
2018 Newcomer of the Year as Schmidty
2018 Face of the Year as Bob Luger
2018 Promoer of the Year
1x European Champion as Schmidty
2x United States Champion as Schmidty
1x Undisputed Champion as Schmidty
1x Alpha World Champion as Bob Luger
1x Tag Team Champion as Murdoc
1x Tag Team Champion as Freddy Osborne
1x Dashing's ride or die chick
Main Event Star!





Posts

: 3412


Join date

: 2015-09-19


Age

: 21



_________________
IT'S TIME
Tim is no longer Tim's slave.
_________________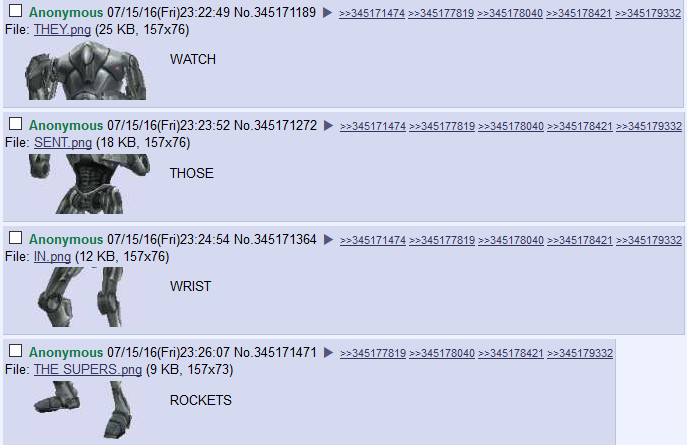 ACHIEVEMENTS B R U H
Josh Wolf:
Inaugural Rising Star Champion (Two Time Champion)
Main Event Star!





Posts

: 649


Join date

: 2017-01-28


Age

: 20



_________________
Ryan Kent
1x NXT champion
Former money in the bank holder!
1x Undisputed champion
1X NXT tag champs
1X CMV Tag Champs
1x Hardcore Champion
1x International champion
1x Light Heavyweight champion
The man with the most title defences in CMV history!
CMV second ever grand slam champion!
Sean Kent
1x Fusion tag champs
Main Event Star!





Posts

: 624


Join date

: 2015-03-28


Age

: 17


Location

: England


Humor

: Dark Humor



Page 1 of 2 • 1, 2

---
Permissions in this forum:
You
cannot
reply to topics in this forum