Fusion & Genesis PPV List!
-King of the Ring
-Exodus
-CyberSlam
-Tag Team Cup
-Validation
-Dark Carnival
-Point Break
-Regicide
-Wild Card
-Absolution
-Emergence
-Home Coming
-Cause & Effect
-Final Resolution
-Purgatory
-Ascendance
Fusion/Genesis Superstar of the Week!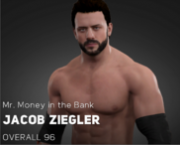 Page 1 of 2 • 1, 2

Under what Stipulation should the finale of the Elimination Chase take place

Miss Roxanne is out continuing her search for the next Megan Cooper among the CMV Vixens Division and tonight is no different as she looks to take on aspiring contender Audrey Hope to kick off tonights show. Hope will be looking to impress tonight making her main card debut which is exactly what Roxanne will want from her as she hopes to find the next Cole Savage client.

CJ Havret is not one to back down from a challenge and tonight she'll certainly have a big challenge in her way in the form of Jacqueline Bennett in singles action. Havret has dealt with bigger opponents in the past, overcoming adversary in the form of Nancy Hurt, but tonight we'll see if she can handle the next big thing in the Vixens Division.

Up next we dip a toe into the Tag Team Division as the current CMV Womens Tag Team Champions The Knockout Queens look to take on Starz and Stripez in some Tag Team Action. Now Knowing who their opponents will be at Redemption Road the duo will need to conjure up some serious momentum to ensure their first Title Defence goes in their favour and they'll have the opportunity to do so tonight.
Number One Contenders Match

Up next we'll discover who will be facing the current CMV Womens Hardcore Champion Ally Cage at Redemption Road as the Japanese born Superstar Aura goes toe to toe with the hardest hitting Vixen in CMV history in the form of Samantha Steel. After costing Joy Justice her opportunity for Money in the Bank last week you can be sure Joy Justice will be out for some revenge at some point, could it be tonight?

Arguably the two most dominant Vixens on the roster this season finally collide tonight as Raiden Brooks takes on the current CMV Womens Intercontinental Champion Fury in singles action. As of late Fury has been on the receiving end of cheap shot after cheap shot at the hands of Angelina Hawkins, could we see the same tonight in our tertiary Main Event?

Up next is the second round of the Elimination Chase and after Joy Justice's elimination last week we are down to the final three and come the Pay Per View in two weeks time we will be down to the last two battling it out for a spot in this years Money in the Bank, but the question is, who will be next out of the Chase? The leader of No Morality Miss Vicious? Her Arch nemesis and former stablemate Sophia Caldwell? Or will it be the upstart, the underdog, Amy Winters, find out tonight.

Six Vixens Tag Team Action to cap off tonights show as Queen Quinn-Belle teams up with her tag team partner Willow Nightling and the same very Vixen she beat in the UK, Jenny Wheeler to take on the former CMV Womens Champion, Kristen Page who may perhaps feel as if she'd have won the belt in the UK had it not been for Jenny Wheeler. Kristen will head into this match alongside two Vixens she's not exactly on good terms with in Megan Cooper and Cassie Maverick who may both have the opportunity to challenge Queen Quinn at Climb 2 Fame. Tonights Main Event is sure going to be a combustible one with many Vixens having to put aside their differences in order to pick up the win.
Pre Show
Davina Blair Vs Skyler Craft
Jane Lucid/Casey Wilson Vs Blazing Dragons
Emily Vs Dawn Bryan
Admin





Posts

: 5951


Join date

: 2015-03-09


Age

: 20


Location

: MizTV


Humor

: Making Sons uncomfortable



_________________
Accomplishments :

2018 Heel of the Year as Schmidty
2018 Newcomer of the Year as Schmidty
2018 Face of the Year as Bob Luger
2018 Promoer of the Year
1x European Champion as Schmidty
2x United States Champion as Schmidty
1x Undisputed Champion as Schmidty (current)
1x Alpha World Champion as Bob Luger
1x Dashing's ride or die chick
Main Event Star!





Posts

: 3281


Join date

: 2015-09-19


Age

: 21



Main Event is a 5 on 1 handicap match. Cassie has no friends.
_________________
My Characters
Rage - Current CMV Global Champion
Cassie Maverick - 2x IC Champion, 2x Vixen's Champion
Mr. Showtime - Former Tag Team Champion
Bill Maverick
Gluttony
The Jezebels (Susanna and Valderiss)
Main Event Star!





Posts

: 1072


Join date

: 2015-09-13



Admin





Posts

: 5951


Join date

: 2015-03-09


Age

: 20


Location

: MizTV


Humor

: Making Sons uncomfortable



Amy Winters is either my luckiest CAW, or just buffed to t h i c c ness
_________________
ACHIEVEMENTS B R U H
Josh Wolf:
Inaugural Rising Star Champion (Two Time Champion)
Main Event Star!





Posts

: 606


Join date

: 2017-01-28


Age

: 20



Admin





Posts

: 5951


Join date

: 2015-03-09


Age

: 20


Location

: MizTV


Humor

: Making Sons uncomfortable



Miztacular wrote:How thicc tho
Thiccy Bella thicc I imagine.
_________________
My Characters
Rage - Current CMV Global Champion
Cassie Maverick - 2x IC Champion, 2x Vixen's Champion
Mr. Showtime - Former Tag Team Champion
Bill Maverick
Gluttony
The Jezebels (Susanna and Valderiss)
Main Event Star!





Posts

: 1072


Join date

: 2015-09-13



Both of these will be tomorrow.

Sol PM me real quick you cheeky ledge
Admin





Posts

: 5951


Join date

: 2015-03-09


Age

: 20


Location

: MizTV


Humor

: Making Sons uncomfortable




_________________
Accomplishments
Osiris - Black (2)
Main Event Star!





Posts

: 2590


Join date

: 2015-03-09



Page 1 of 2 • 1, 2

---
Permissions in this forum:
You
cannot
reply to topics in this forum