Fusion & Genesis PPV List!
-Battle Scars
-Anarchy Rulz
-Exodus
-CyberSlam
-Validation
-Point Break
-Cause & Effect
-Home Coming
-Absolution
-Purgatory
Fusion/Genesis Superstar of the Week!
Page 1 of 2 • 1, 2

Will Blizzard Finally be able to beat Novak at Arrival, one year after their last match?
Leo Cruz (With Cole Savage) Vs Brett Angel
One of the two men who'll be fighting for the NXT Television Championship at NXT Arrival will take on a former NXT Television to open up tonights show, however Brett Angel could have his mind elsewhere as his partner in Halo is taking on Ricky Spanish on his own after an argument backstage within the ranks of Halo. Can Leo Cruz take advantage of this situation and beat not only a former NXT TV Champion, but an NXT Champion too.
Dirty Diana Vs Alexia Hamilton
Two people that were eliminated in the first round of the NXT Womens Championship take to arms tonight as Dirty Diana takes on the very vocal Alexia Hamilton, there will be a battle royal to determine the number one contender for the womens Championship at Arrival, but only 6 women can get into the match, a win here would go far for one of these two women.
Fatal Four Way Qualification Match
Akira Vs Gerald Davis Vs Bryan Sanders Vs Marko Punish
After Haydens brutal concussions and successive head injuries on Fusion, he's been pulled from the feud with Marko Punish, allowing Marko to pursue other options. He could well earn his first Title since his glory days of teaming with Kevin Payne if he were to win this fourway tonight, he's already beaten Gerald Davis, who himself has beaten Bryan Sanders. The X Factor in this match has to be the new man, Akira.
NXT Tag Team Championship Number One Contenders Match
The Corruption Vs The Saints
In Tag Team action, we've seen The Saints pick up the win, in singles action, we've seen The Corruption pick up the win, tonight we find out which of these two teams will challenge The Bringers of Despair at NXT Arrival.
NXT Womens Championship Semi Final Matchup
Nancy Hurt Vs Angelina Wild
The only CMV Diva left in the competition looks to take on the absolute under dog, Angelina Wild, only one can make her way into the final and earn the chance of becoming the first ever NXT Womens Champion. Who will it be, find out tonight.
Ricky Spanish (With Kyle Anderson) Vs Osiris
The Dream Team may have suffered a loss last week, but they got one back after taking out Halo with a cheap shot with the microphone from Ricky Spanish, tonight, after a quarrel backstage, Osiris is out here on his own against Ricky Spanish, who has Kyle Anderson in his corner for this match.
D'angelo St. Daniels & Blizzard (With Anna Arctica) Vs Chris Adams & Bryan Novak
The two challengers for both the NXT and NXT European Championships will team up in tonights Main Event against the respective Champions they'll be facing at NXT Arrival, Adams and Novak, we've seen Adams and Novak team up recently against The Bringers of Despair, they won the match, however were attacked after the bell. Whichever team gets the win tonight will head into NXT Arrival with huge momentum.
Viewers Choice
NXT Womens Championship Semi Final
The Bringers of Despair Vs Viewers Choice.
Chris Adams(c) Vs D'Angelo St. Daniels
Bryan Novak(c) Vs Blizzard
Leo Cruz Vs ???
The Bringers of Despair Vs ???
_________________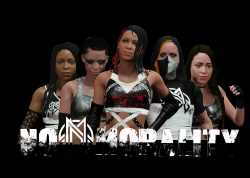 Top 10 Gent Quotes:

ChildishGent wrote:What if I smacked 14 puppies?

ChildishGent wrote:Boars before Whores

ChildishGent wrote:Got about a 50% chance of eating it before sundown

ChildishGent wrote:You'd probably see me play Gears this winter

ChildishGent wrote:Mickie James has a particular set of tittays

ChildishGent wrote:Sunshine is 100% a hollaback girl

ChildishGent wrote:Make sure to call him "Baby Jay" Omega Lee

ChildishGent wrote:Can't wait for Big Show to make his return

ChildishGent wrote:When is Kane becoming GM again?

ChildishGent wrote:Quinn is king
Admin





Posts

: 4339


Join date

: 2015-03-09


Age

: 19


Location

: MizTV



DSD becoming a tag team specialist
_________________
F*CK BOLSTAD
F*CK Wrestling Originals
Main Event Star!





Posts

: 612


Join date

: 2015-07-19


Age

: 19


Location

: Hopewell, Virginia



Hope cop knows Dirty Diana's moves
_________________
F*CK BOLSTAD
F*CK Wrestling Originals
Main Event Star!





Posts

: 612


Join date

: 2015-07-19


Age

: 19


Location

: Hopewell, Virginia



Dirty Diana sounds like my type of woman.
How dare you put Beardlisto against Brett Angel,

i'm srry krzy.
_________________
Main Event Star!





Posts

: 1958


Join date

: 2015-05-13


Age

: 17


Location

: Ontario, Canada



_________________
2x World Heavyweight Champion as Kevin Owens
2015 Superstar/Champion Of The Year
2015 NXT King Of The Ring
     2x Hardcore Champion as Kayden Kynra(Former)
     3x NXT Television Champion as Lorin Seoul (Former)
1x NXT Tag Team Champion as JLV(Former)
Midcard Playboy





Posts

: 472


Join date

: 2015-07-01


Age

: 20


Location

: NJ



ChildishGent wrote:DSD becoming a tag team specialist
Right tho?
Admin





Posts

: 2916


Join date

: 2015-03-08


Age

: 20


Location

: The Hood



Page 1 of 2 • 1, 2

---
Permissions in this forum:
You
cannot
reply to topics in this forum