Fusion & Genesis PPV List!
-King of the Ring
-Exodus
-CyberSlam
-Tag Team Cup
-Validation
-Dark Carnival
-Point Break
-Regicide
-Wild Card
-Absolution
-Emergence
-Home Coming
-Cause & Effect
-Final Resolution
-Purgatory
-Ascendance
Fusion/Genesis Superstar of the Week!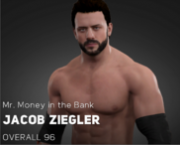 Page 1 of 5 • 1, 2, 3, 4, 5

Who is Brett Angels Opponent(s)?
Womens Intercontinental Championship Match
Vs
As announced in the mid-week, a new championship would be instated tonight to kick off episode 100. NXTreme, with a bang. To reward the Vixens of NXT, the NXT Womens Intercontinental Championship will be unveiled tonight, and after beating Lexin Damjen and Dirty Diana in tag team action, it will be Rose Punish, the Vixen who beat the Womens Champion Jade Dynamite on a house show a few weeks ago, go up gainst "1Shot" Leona, who's career is in the hands of CJ Havret and Brett Angel tonight, this could potentially be her last chance ever to win gold in NXT, even if it's only for a day, she'd go down in the records as the first ever NXT Womens Intercontinental Champion.
After several months of terrorising the Rhodes family, tonight we could well be seeing the end of this here feud as we finally see the man, the myth, the legend, Starrrrdust, take on NXT's resident Artist, Gerald Foster, after some back and forth attacks by both parties, you can be sure this will be an all out brawl.
NXT Tag Team Championship Match
After several months, The Saints have clawed their way back into the NXT Tag Tea Championship picture, and will be looking to do a lot better than last time, however just like last time, they have a very game duo consisting of Christian Shaw and Vincent Trowell to get through, which is never an easy contest, both of these teams have two wins, and two losses against eachother, but who will walk out with the most important win of them all.
Lorin Seoul picked up his first win last week beating newcomer Nick Blake, and he's offering another open challenge tonight, maybe he'll get what's coming to him this time though as he tries to work his way back up the card after a dismal start to the season. In spirit of NXTreme, this will be our first extreme rules match of the night.
NXT Television Championship
In our first singles title defense of the night, we'll see Blizzard once again get a crack at Zack Starr after beating 5 other men in an over the top rope battle royal in this passed house show to become the number one contender. While Starrs momentum on the other hand has stunted after a big defeat to D'Angelo St. Daniels in last weeks Main Event, however as we all know he's captain clutch, with an impressive PPV record to back it up, the odds are against Blizzard, and he'll have nowhere to hide in this falls count anywhere match.
Money in the Bank Ladder Match
Not exactly what you think, but thanks to Cole Savage stealing the Money in the Bank briefcase from Leo Cruz, it'll be up for grabs tonight from the mouth of the NXT General Manager Kane himself, and it will be a fair one on one match, as Cole Savage has been barred from ringside by the NXT General Manager. With the chance to become a future NXT Champion on the line, both of these superstars need to bring their A-Game!
NXT Womens Championship Match
With it all on the line tonight, especially for CJ Havret, this match will take place in a No Holds Barred contest as we not only see Havret fight for the NXT Womens Championship, but we see her fight for the careers of the rest of HALO, if she doesn't win, they could be fired, all the pressure will fall on to the lap of Brett Angel in the Co-Main Event, Havret can't allow herself to be complacent at the thought of Brett Angel being the second chance, as his stipulation could be anything from a singles match to a 3 on 1 Handicap match.
Moments after Havret's chance to save HALO, the pressure will fall to Angel, who is put in a must win situation, because no matter what happens in the Womens Championship match, at least one member of HALO will be fired tonight, if Angel wins, all of HALO keep their jobs regardless of whether or not Havret picked up the win, however if Brett Angel loses, either all of HALO will be fired, or just one of them, with the exception of himself, depending on the outcome of Havret's match. The magic question is, who will be Angel's opponent and how many of them will there be?
Nick Starr's first Title defense as NXT Champion will take place in the Main Event of Episode 100 against D'Angelo St. Daniels, the man who wasn't part of the pinfall in the Main Event of NXT Contingency. These two have gone back and forth all month, but now it's time to nut up or shut up, is Nick Starr really the transitional Champion, or is DSD truly the one reign wonder of NXT, tonight these questions will be answered, in a falls count anywhere match.
Last edited by Miztacular on Thu Jan 07, 2016 1:27 pm; edited 1 time in total
Admin





Posts

: 5937


Join date

: 2015-03-09


Age

: 20


Location

: MizTV


Humor

: Making Sons uncomfortable



Predictions:
Rose
Stardust
BoD
???
Zack Starr
Akira
Havret
???
Nick Starr
Admin





Posts

: 5937


Join date

: 2015-03-09


Age

: 20


Location

: MizTV


Humor

: Making Sons uncomfortable



Rose
Foster
The Saints
Lorin
Zack
Cruz
Dynamite
Angel
DSD
_________________
Luther Thunder: 1x European Champion
Rashad Rockwell:1x Tag Team Champion with Kidd Campbell
Eligah Stewart
: 1x Tag Champion with DJ Moore
Jimmaurie Williams
:  2x CMV International Champion. Debut Episode 109.
Parker: 1x European Champion
Anthony Brown: 1x Television Champion
Main Event Star!





Posts

: 2451


Join date

: 2015-08-18


Age

: 15


Location

: Near Earth


Humor

: South Park



When are you gonna stream the PPV
_________________
Main Event Star!





Posts

: 2627


Join date

: 2015-05-13


Age

: 18


Location

: Ontario, Canada


Humor

: Dashing's jokes



Stardust/Foster is extreme rules. Read my promo

_________________
Accomplishments :

2018 Heel of the Year as Schmidty
2018 Newcomer of the Year as Schmidty
2018 Face of the Year as Bob Luger
2018 Promoer of the Year
1x European Champion as Schmidty
2x United States Champion as Schmidty
1x Undisputed Champion as Schmidty (current)
1x Alpha World Champion as Bob Luger
1x Dashing's ride or die chick
Main Event Star!





Posts

: 3252


Join date

: 2015-09-19


Age

: 21



Randy Borton wrote:When are you gonna stream the PPV
I would like this information as well.
_________________
IT'S TIME
Main Event Star!





Posts

: 2214


Join date

: 2015-08-29


Age

: 25


Location

: New York


Humor

: Slapstick




_________________
Accomplishments
Osiris - Black (2)
Main Event Star!





Posts

: 2556


Join date

: 2015-03-09



Admin





Posts

: 4219


Join date

: 2015-03-08


Age

: 20


Location

: The Hood


Humor

: Knock knock!



when did he ever say that

I don't trust you
_________________
Main Event Star!





Posts

: 2627


Join date

: 2015-05-13


Age

: 18


Location

: Ontario, Canada


Humor

: Dashing's jokes



Page 1 of 5 • 1, 2, 3, 4, 5

---
Permissions in this forum:
You
cannot
reply to topics in this forum