Fusion & Genesis PPV List!
-Battlescars
-King of the Ring
-Exodus
-CyberSlam
-Tag Team Cup
-Validation
-Dark Carnival
-Point Break
-Regicide
-Wild Card
-Absolution
-Emergence
-Home Coming
-Cause & Effect
-Final Resolution
-Purgatory
-Ascendance
Fusion/Genesis Superstar of the Week!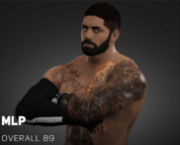 Page 1 of 3 • 1, 2, 3

Which team do you see walking out of Tokyo, Japan, with the CMV Tag Team Cup?
Monday night Fusion: Episode 22!
LIVE from the Ford Arena in Beaumont, Texas!!!Dark Carnival card thus far!
(Subject to change.)
-Troy Voodoo vs. JustIN Sane for the CMV Undisputed World championship!
-FEAR vs. DJ Moore!
CMV Tag Team Cup Brackets!
----- ----- ----- ----- -----
Two teams who'll partake in the inaugural CMV Tag Team Cup LIVE from Tokyo, Japan, this Sunday, will be going head to head here tonight in order to try and pick up some much needed momentum. After Sebastian Crawford pretty much spit right in the face of Triple H last week by teaming up with JustIN Sane in what was meant to be a handicap match, you can bet that Foreign Affairs don't have very long before The Corporation are forced to take notice.
vs.
vs.
Non-title matchBefore he heads to Japan to defend his newly won Light Heavyweight championship against Levi Marta, Omega Lee is going to have to take down the two losing participants of last week's poll, Tyson Newman and Sushi-X. Although the title may not be on the line, Lee had better not look pass this one, as a win for either Tyson or Sushi could result in a championship match of their own.
vs.
Another two entrants in this Sunday's tournament, Troy Voodoo and Zack Cage, will go one on one in an effort to score a big win for their respective teams here tonight. Though their partners may not exactly be their best friends, they can't and won't let this opportunity slip through their fingers, a place in the record books and a shot at some championship gold on the line.
vs.
Thinking that Mr. Money in The Bank purposely lost their tag team match last week on Fusion, The Nachoman, Andy Savage, has challenged Randy Borton to a match here on tonight's show. Whether Borton did or didn't throw the bout, it doesn't really matter at this point, he has the chance to finally shut up his stalker once and for all!
vs.
With only one match in his CMV career under his belt, and that coming at a loss, Fusion's newest asset, Crowe, has got the biggest match of his entire career already coming towards him, as he'll be tangoing with one of the biggest names ever to grace a CMV ring, Hayden! The A-Lister managed to put down Sunshine on last week's show, and then offered to put things behind them with a handshake, but the man with the broken smile refused . . . Leaving us wondering; what's he got in store for his rival?
vs.
Non-title matchLast week, we saw Cassie Maverick's close friend and ally, Fury, brutally assaulted at the hands of Megan Cooper, their match even going to a no contest. With the doctors clearing her to compete despite a minor injury, a rematch has been set between she and Cooper on next week's show. But tonight, it's all about Maverick as she goes toe to toe with Christie, trying to keep up her winning ways as she gets set to defend her Vixen's title against Kristen Page this Sunday.
vs.
#1 contenders match for the CMV International championship!Following Chet Taylor's . . . Untimely demise at the hands of Quantum last week, we need to find ourselves a new challenger for Jaxon Jordan's International title. Duo Maxwell made a strong statement by boldly mocking Jordan following his victory over William Rage last week, but nobody can deny the roll that Ringo Maxx has been on, only losing one singles match this season. In the battle of the Max's, who'll come out ahead and earn themselves a shot at the second most prestigious championship here on Monday night Fusion?
_________________
1x CMV Anarchy champion
1x CMV Tag Team champion
Bludgeon
1x Mr. Money in The Bank, 2x World Heavyweight Champion, 1x United States champion, Glammy award for Feud of the Year, Glammy Award for Heel of the Year
Xander Slate
Lol
Animals abuse in that co-main event. MOOOO
Admin





Posts

: 5962


Join date

: 2015-03-09


Age

: 20


Location

: MizTV


Humor

: Making Sons uncomfortable



DANK new intro by Hero btw <3
I feel Luke in the tag bracket ??? Is just the other half of Foreign Affairs
_________________
Luther Thunder: 1x European Champion
Rashad Rockwell:1x Tag Team Champion with Kidd Campbell
Eligah Stewart
: 1x Tag Champion with DJ Moore
Jimmaurie Williams
:  2x CMV International Champion. Debut Episode 109.
Parker: 1x European Champion
Anthony Brown: 1x Television Champion
Main Event Star!





Posts

: 2516


Join date

: 2015-08-18


Age

: 15


Location

: Near Earth


Humor

: South Park



Finally, Borton will fucking end that stupid ass Nacho's career. Back to the indies kiddo.
_________________
Main Event Star!





Posts

: 2646


Join date

: 2015-05-13


Age

: 18


Location

: Ontario, Canada


Humor

: Dashing's jokes



Nacho's build looks terrible.
_________________
Accomplishments :

2018 Heel of the Year as Schmidty
2018 Newcomer of the Year as Schmidty
2018 Face of the Year as Bob Luger
2018 Promoer of the Year
1x European Champion as Schmidty
2x United States Champion as Schmidty
1x Undisputed Champion as Schmidty (current)
1x Alpha World Champion as Bob Luger
1x Dashing's ride or die chick
Main Event Star!





Posts

: 3296


Join date

: 2015-09-19


Age

: 21



I feel like people missed the point of what Savage was about.
You had the Hulkamania in CMV with Randy Borton.
Some of the greatest stuff from years ago was the megapowers forming/ split with Miss Elizabeth jealousy.
Shame Hogan had so much influence to bury Savage as Savage was by far the better wrestler and his interviews were brilliant.
Compare that to what you have now.... err Bray Wyatt and errr ....
I just dropped in a tribute to that stuff. It wasnt meant to be serious. Savage isnt meant to have an amazing build its meant to be retro 80s.
It obviously went over peoples heads or people dont like it for whatever reason so after this episode ill do 1 more promo and do 1 last career ending or retirement match for the Nachoman vs the Milkamaniac and bring in someone new, only a game after all

Midcard Playboy





Posts

: 235


Join date

: 2015-12-21



I'm a big Nachoman fan <3
_________________
Accomplishments :

2018 Heel of the Year as Schmidty
2018 Newcomer of the Year as Schmidty
2018 Face of the Year as Bob Luger
2018 Promoer of the Year
1x European Champion as Schmidty
2x United States Champion as Schmidty
1x Undisputed Champion as Schmidty (current)
1x Alpha World Champion as Bob Luger
1x Dashing's ride or die chick
Main Event Star!





Posts

: 3296


Join date

: 2015-09-19


Age

: 21



Page 1 of 3 • 1, 2, 3

---
Permissions in this forum:
You
cannot
reply to topics in this forum