Fusion & Genesis PPV List!
-Battlescars
-King of the Ring
-Exodus
-CyberSlam
-Tag Team Cup
-Validation
-Dark Carnival
-Point Break
-Regicide
-Wild Card
-Absolution
-Emergence
-Home Coming
-Cause & Effect
-Final Resolution
-Purgatory
-Ascendance
Fusion/Genesis Superstar of the Week!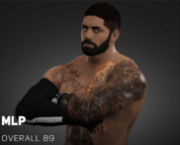 Page 2 of 2 •

1, 2
The NXT UnChained arena fills up with smoke causing the crowds vision to deteriorate, relying only on the flashing lights as Jade Dynamite backs up into the ropes, scared and confused. Through the thick smoke she spots a tall figure roaming around the arena. Dynamite stands tall in the ring, looking around her, twisting and turning in a desperate attempt to track the lonesome figure, but deep down, she already knows it's over. She's not 100% and this thing.. Has every single advantage in the book. The lights continue to flicker and Dynamite turns around to see something, a person, but she can't quite make out who it is with all the smoke, all the fog.

Dynamite proceeds to follow her first instinct and swings with a punch, however it is slow, it is groggy, she's tired after going through a war with Lexin Damjen. The figure is able to easily sidestep the punch. Dynamite steps back, and runs forward for the Running Mushroom Stomp however the figure once again sidesteps it, and Dynamite lands, her head crashing into the top turnbuckle. The former NXT Womens Champion turns around, to see nobody in the ring. She begins to panic, is this really happening? She thinks as she hears a loud clunk from behind, she turns, still struggling to see. Dynamite walks forward in an attempt to inspect the noise, but at the last second, she realizes, but before she can react, she's struck by a steel chair. The lights flicker again as Dynamite falls to the mat, the crowd watching in horror as the mystery figure unloads with chair shots to the former NXT Womens Champion. The figure can be seen crouching down, seemingly to pick up the microphone dropped by The Miz earlier. The figure picks the crumpled body of Jade Dynamite up to her feet, and slams her into the turnbuckles leaning in real close, face still undetermined by the flickering lights in the arena..
???

There'll be no rematch clause for you.. You've had your time in the sun, and now it's my job to bring you to the shadows, where your mind will be torn, broken until you become.... Unchained.
Suddenly the flickering stops and the arena becomes ink black, a small noise can be heard as the microphone hits the mat, followed by a huge thump as what we can only assume is Jade Dynamites body hits the mat shortly after. After a solid 30 seconds, the lights come back on, and Dynamite is left in the ring, blood leaking from her nose as the medical team run down the ramp to attend to the former Womens Champion
Midway through episode 56 of UnMatched the former NXT Womens Champion, Jade Dynamites theme hits the PA system met with a roar of boo's from this hyperactive crowd for NXT's return to the United States coming off the European Tour, Jade Dynamite comes out with her arm raised high into the air, feeling happy with herself, beating the Vixen who she had believed to be causing her problems since losing her NXT Womens Championship at NXT UnChained. Jade Dynamite walks around the ring towards the timekeepers area to retrieve a microphone before making her way into the ring, sliding underneath the bottom rope. Dynamite walks to the center of the ring, she raises the mic to her mouth, but before she can talk, she's interrupted by the boo's of the crowd, Dynamite raises an eyebrow and smiles. She lowers the mic and walks towards the corner of the ring, climbing the turn buckles, she looks around the crowd who continue to boo, she simply closes her eyes, extends her arms and takes it all in before hopping back down onto the mat to begin talking.
Jade Dynamite:
I told you all, that I'd get my revenge. Nobody attacks me, nobody comes at me from behind and gets away with it. I am the face of this division and the best fighter CMV has ever seen. Did any of you expect it to go any other way when me and that scumbag Jessica Brooks locked horns just a few days ago? I DOMINATED HER, for 10 minutes before putting an end to her lack luster career. Now with this devious clown out of the way, I can get back on track, I can get back what's truly mine. The NXT Womens Championship. Lexin, I'm very glad that you decided to keep my custom Championship, so I won't have to go through the effort of re-instating it after I win it back in a few short weeks at iMPLOSION. You see all you did at UnChained was anger me, you set off a ticking timebomb the moment your arm was raised that night, and at iMPLOSION, it's going to blow up in your face. There's nothing Miz can do that will stop me from ripping you apart limb from limb. This isn't just about my Championship, this is about me finishing your career and putting you back in line as the person who can't win the big one. So Damjen, keep that belt close, keep it warm, because it won't be long before I rip it straight out of your limbless body and become the first ever.. Two Time NXT Womens Ch--
Before Jade Dynamite can finishe, she is interrupted by static on the Titantron, she steps back, looking at the Titantron, confused, a loud click can be heard above her head at the top of the arena, she looks up only for a bright UV light to turn on near enough blinding the former NXT Womens Champion. She covers her eyes for a moment while she tries to figure out what the hell is going on. However, while she's busy in thought, the sound of metal scraping against metal can be heard on the stage, moving slowly but surely down the ramp towards the ring, as it gets closer, Dynamite finally hears it, and looks ahead of her, but her range of vision has deteriorated due to the blinding light, Dynamite does what she knows, and raises her fists ready to start wailing them around in hopes of a connection but, the scraping sound stops, and Dynamite lowers her arms, once again confused. The all powerful Vixen looks around the ring, blinded as the crowd watch on, a slight bit of fear can be seen across the face of Jade Dynamite who frantically turns around to figure out where the noise went. But suddenly a loud crash is heard, as a steel chair is thrown into the ring in front of her, but Dynamite, still blinded, doesn't know it's a steel chair, she jumps a little and raises her guard once again, her face stricken with a mix of fear, anger and confusion. She throws a punch, but there's nobody there but herself, the ring still lit up by this blinding light, while the rest of the arena is covered in a sheet of darkness. Dynamite turns at the sound of another crash behind her, and then to her right, her left, behind her again. Dynamite tries to open her eyes to see, but the light above her head gets ever brighter, she closes her eyes again and screams in pain, clutching her face, the aura of invincibility gone. Then at once, chairs are thrown in the ring all around dynamite who covers her face with her arms raised doing anything she can to protect herself from any potential damage, she frantically turns around trying to find the source of these noises, but with her eyes closed she gets nowhere.
???:
Look into the Light...
Dynamite slowly opens her eyes, the light above her head has been dimmed a little, but the damage from the light has taken it's affect and her vision is impaired, she rubs her eyes and opens them again to reveal a figure in front of her, covered from head to toe in black, completely untraceable. Before Dynamite can come up with any sort of game plan her vision is once again cut off by a flash of gray, a steel chair that connects heavily to her temple, causing her to collapse to the mat blood flying through the air..
Static once again covers the arena for a brief moment, and when the lights come on, the ring is completely empty with the exception of the body of Jade Dynamite laid out on her back on the mat, blood trickling out of a nasty gash on her forehead, she's been heavily rocked, by that concussive chairshot, blood continues to flow from her mouth and ears, along with the gash on her forehead. Dynamite begins to fade, but only after rolling onto her stomach, noticing a message on the Titantron "You got the wrong person" is displayed in bold black text. As Dynamite passes out from the blood loss, she musters all the strength she can to raise her arm and flip off the Titantron, with a smile on her bloody face, she passes out lying down in the center of the ring..
Had a much better one written out but this f'n site decides nah bitch, time out.
Admin





Posts

: 5954


Join date

: 2015-03-09


Age

: 20


Location

: MizTV


Humor

: Making Sons uncomfortable



Kicking off UnMatched we hear the theme of the most dominant Vixen in CMV history as Jade Dynamites theme hits the PA system to an applause from the crowd. The former CMV Womens Champion comes out from the back with a disgruntled look on her face and microphone in her hand, completely adamant towards the crowd as she makes her way down to the ring, her eyes full of anger, full of determination as she scales the steel steps, letting off a cold stare as she looks around the arena towards the fans who cheer back, understanding her situation. Jade steps into the ring and without hesitation, looks into the hard camera and raises the microphone to her mouth...
Jade Dynamite:
You cut off my damn music RIGHT now...
Off of Dynamites command, the music cuts, and the crowd goes silent, as Dynamite looks around the arena, an eye out for Kristen Page before once again turning to the hard camera to press on.
Jade Dynamite:
Kristen I hope you're sitting back there in your office, having fun, watching the show, holding MY belt. But I hope you realise, your time is coming up, the ticking time bomb is oh so close to timing out, and when it does, you and your career will go up in smoke, as I once again reign supreme in MY Division, the Dynamite Dynasty lives on with, or without the belt, because you are all part of my world, just as you always have been, I allow you to live in my world, under my rule. It has always been this way, you can call yourself the General Manager Kristen, but in the bigger picture, it means nothing in My Division, you are a mere Authority Figure in a world where I am God. Come Contingency you will find this out for yourself, you'll wish Dirty Diana walked out with the belt at Quarantine... You'll wish you were fighting for that little pity belt in the mid-card. You said you targeted me because I was the Lion in this jungle... You said you came for me because I was at the top of the food chain, because you wanted to make your mark. Well you got two of those right Kristen... I am at the top of the food chain, and you did make your mark. But, I am no Lion, I am something far more dangerous. I am Jade Dynamite, the very top of the food chain. You know what you are Kristen? You're a snake in the grass, you're powerful when you strike from the darkness, but when you come face to face with a challenge, you lose, and trust me. Your venom was not enough to keep me down Kristen, and at Contingency I'll crush your head under my boot.

Just like how I'll crush Cassies head under my boot, just like how I'll crush Sophia Caldwells head under my boot, and that whole god damn stable! Do you think you're the best Cassie? You may have been the best on Fusion, but that means nothing here, just look no further than Rose Punish for proof, a weathered soldier who has proven she is weak, time and time again, in less than three months is now fighting for the Vixens Championship.I can't wait for her to win just to prove how pathetic that division is for one final time. A Vixen who couldn't get the job done three times, including a gauntlet where she came out second to last, a gauntlet in which I came out first, now may become the Vixens Champion. So Cassie, I do not take you seriously, you can say you're a former two time Vixens Champion, but to me, that's just like saying you're a former two time Womens Intercontinental Champion, it's a midcard belt, that means nothing. I never ducked you Cassie, I never dodged your challenge. I just didn't know who you were until you smacked me in the back of the head with a chair last week, because you and every other Vixen in CMV is a mere ant from where I stand. Maybe one day when you climb up my mountain will you deserve to fight me.

But do not let me forget about No Morality, a name which is very Ironic, because after I'm done winning my belt back, I will be the one showing THEM No Morality. I will be the one forcing THEM to Compromise. It's funny too.. Because when I'm done with them, they will be seeing black and white, but it certainly won't be clear, because after a curbstomp from me, their eyes will rattle around their head so hard they'll have impaired vision. I pity you Caldwell. Having money in the bank, having something I made so prestigious within your fingertips only to blow it. You finally realized what I've been saying since we fought back at Rage in a Cage. You are nothing, and you will NEVER climb to the bar that I have set alone, you need a group of brain-dead morons to carry you there. But fear not. I'll give each and every one of you a reality check when I get my belt back...
Jade lowers the microphone for a brief moment as the crowd begin to chant her name over and over before she cuts them off by once again talking into the microphone...
Jade Dynamite:
I didn't ask for this, I never wanted this. I'm not here to be a role model, I'm not here to win the crowd over, but if I must become an icon in the eyes of the people to rid MY Division of infectious things such as Kristen Page, No Morality and Cassie Maverick, then so be it. You may cheer me, you may boo me. But you must understand, that either way, my goal is the same. My Crown, My Division. Is missing it's crown jewel and in two weeks time. Kristen... You may believe to be unstoppable, and I hope you do, I hope you fill yourself with this false belief because we both know, that you are all talk.. I handed you up on a platter for Cassie Maverick and Sophia Caldwell to get an easy win. But we both know they simply are not good enough to get the job done no matter how much assistance I give them... You however Kristen.. You have failed time and time again to attack me from the darkness, your tricks are beginning to run dry, and I don't think you have an ace up your sleeve now. It's just me and you, one on one for MY Belt. You're scared Kristen, but your deluded, crazy mind has turned that fear into power, into greed, but I see the real you and what I see is a scared little girl hiding behind a Superstar who is a shell of what he once was. I personally don't think we should wait until Contingency, I think we should go at it right now.. Prove me wrong Kristen, come out here, alone, no surprise attacks, no followers just me and you...
In one of the very rare instances, Kristens theme hits the PA System as Jade Dynamite drops the microphone in the ring and gestures for Kristen to come out from the back, and right on cue, she comes out, smiling maniacally as she skips down to the ring without a care in the world, living her own crazy dream, she stops at the bottom of the ramp, and her smile, turns into a glare as she looks into the ring at Jade Dynamite...
After the two get to their feet following the brawl, the referee goes to ring the bell, starting Jade Dynamites impromptu match with Kristen Page, but before he's able to signal for it he recieves a codebreaker from Kristen Page, who gets back to her feet, staring at Jade Dynamite, gazing with putrid hatred into each-others eyes. Kristen steps back, smiling at Jade, who looks back with anger on her face, under the assumption that Kristen is mocking her, but then as she looks around, the ring is surrounded by security guards, all of whom are wearing the mask of Sunshine, and as Kristen gestures for them to remove Dynamite from the arena they all slide into the ring, forcing Dynamite out of it and down to the floor below. Kristen lets off a shrill laugh as Dynamite is escorted up the ramp, forcing herself free as she walks up the ramp on her own accord, surrounded by a swarm of security guards. Now on the stage, Dynamite turns and raises two middle fingers at Kristen, who simply waves and blows a kiss back before picking up the microphone that Dynamite had dropped in the ring earlier as Jade is escorted to the back.
Admin





Posts

: 5954


Join date

: 2015-03-09


Age

: 20


Location

: MizTV


Humor

: Making Sons uncomfortable



CMV.com Exclusive!

Midway through the fallout episode of Ferocity following the Redemption Road Pay Per View we are taken backstage to see Lisa Evans wandering around the the hallways, looking for her next interviewee, as the camera follows her around the corner, she bumps into the very person she was looking for, the former CMV Womens Champion, the longest reigning female Champion in CMV history, Jade Dynamite who is simply sitting down, watching tonights action unfold. Lisa Evans walks up behind Dynamite, tapping her on the shoulder to get her attention and to her surprise, Dynamite welcomes it with somewhat of a smile, though hard to tell through the bruising on her face after the war she went through with Quinn-Belle at Redemption Road. Lisa Evans sits in a chair across from Dynamite and begins to construct her interview.

Lisa Evans:
Ladies and Gentlemen we were lucky enough to find one of the greatest performers in this companies history backstage tonight, she's been nice enough to give us some of her time, ladies and gentlemen, the former CMV Womens Champion, Jade Dynamite. Jade, it's nice to see you here tonight, a smile on your face despite the loss to Quinn-Belle at Redemption Road. How are you feeling?

Jade Dynamite:
Look, I'm going to be straight with you, and all of the CMV Universe watching around the world, it was not an easy few days for me. From the moment I lost my belt up to Redemption Road last Sunday, I had never gotten any closure, false promises after false promises of getting my rightful rematch continued to fall through. It did not go my way on Sunday, it is what it is. I'm not going to give you an excuse, I could easily blame it on ring rust, being out of a wrestling ring for 8 months is going to hurt your performance, and maybe that was the case. But I'm not going to take that road, I've come to terms with the loss, it was a bitter pill to swallow, I had never felt so defeated in my life, I struggled to hold in my emotions in the ring that night. It... It took a few seconds to really sink in after the pinfall happened. It's not something I'm used to as you all know. But on that night, Quinn bested me, that's all there is to say. I'm not going to let it drag me into a deep depression, I'm not going to be overly bitter about it, because that's not who I am. Not anymore. I am here for the fans, because like I said, I've come to realise the impact we have on them as performers. I've come to realise that this journey we embark on, is not our own. We have millions of fans around the world and it's our job to inspire. Don't get it twisted, I'm not going soft on all of you, I've just changed my perspective on what I do. But understand this Lisa, I will be back, as soon as next week and I'll show you that I am still the very best Vixen this roster has to offer, that Redemption Road was just Quinn's night, and fair play to her.

Lisa Evans:
It's very encouraging to see this new side of you, at one point you were this untouchable, cocky phenomenon that was on a warpath through the Vixens division, and now, evidently over time you've come on to mature and grow not only as a person, but as a performer as well. Is it fair to say that the time off has allowed you to take this step back and grow?

Jade Dynamite:
Absolutely. I needed that time off to learn what our industry was truly about. But now I'm back, still the asskicker I once was, still the competitor I once was. But now I'm fighting for more than just myself, now I'm doing it for the fans, and you'll see a bigger, better Jade Dynamite because of it. Like I said, Quinn survived Redemption Road, but I'll be back in Title contention soon enough, and when I am I won't settle for anything less than victory.

Lisa Evans:
Now, you mentioned your road to Redemption Road. Does it feel as if perhaps a weight has been lifted off of your shoulders, despite the loss, now finally getting some closure on what was that chapter of your career? Like you said you're a new person now and in a way, losing at Redemption Road, while i'm sure it wasn't the outcome you were hoping for, it allowed you to close the chapter on your first run in CMV, as historic as it was, and allow you to begin this new chapter of your career?

Jade Dynamite:
Things always come to an end Lisa. So in some way what you're saying is true, but as a whole the goal is the same, the division is still mine, but some silly Irish fool is sitting on my throne holding my belt for the foreseeable future, I will make my rise to the top once again because that is what I have set out to do, so I guess, to answer your question Lisa. In the short term there most certainly is a weight lifted off of my shoulders. The title match that had been shrouding my thoughts for over a year had finally come, and while I may have lost, at least it is all over, it gives me the ability to focus on my rise once again, because while that may have helped short term, the goal is always to be on top, and so there will always be that pressure, that weight upon my shoulders. I will always put pressure on myself to be the best, that kind of pressure is why I've stayed at the top so long, at the end of the day I'm still Jade Dynamite and every time I step into the ring I am expected to walk away with the win, that's the aura I've created and that will never change.

Lisa Evans:
I get what you're saying, the loss to Quinn was certainly a surprise at Redemption Road, and I'd imagine you'd be the favourite in every match you go into despite that loss, many still consider you the GOAT of women's wrestling and I look forward to seeing you compete again, but I have one more question to close things on. What is next for Jade Dynamite? Obviously you are out of the title contention for some time, so where do you set your sights?

Jade Dynamite:
Well, I've always had the goal of being the greatest Vixen to ever compete, I set the record as the longest reigning Women's Champion, I was the first Women's Champion, the first Vixen to Main Event a PPV, and now I look to be the first Tripl--

Before Dynamite can finish her sentence, she's attacked from behind by one half of Quillow, Willow Nightling who came seemingly out of nowhere with a cracking steel chair shot to the back of the head of Dynamite sending her crumbling down to the floor. Willow walks around the chair she was sitting on gesturing the camera to continue filming as she unloads chair shot after chair shot down on Jade Dynamite until the chair bends around the body of the former Womens Champion. Willow drops the chair onto the floor and walks towards the camera.

Willow Nightling:
Oh don't set your sights on anything just yet dear. Quillow isn't quite done with you, but when we are done with you. You won't be around for any of your little goals to come to fruition.

And with that, Willow turns around and leaves as quickly as she came, allowing the medical crew to deal with Dynamite sending this CMV Exclusive to its end.
Admin





Posts

: 5954


Join date

: 2015-03-09


Age

: 20


Location

: MizTV


Humor

: Making Sons uncomfortable



tfw i click the topic, scroll to the top and begin reading a promo from last year.
_________________
1x CMV Television Champion - Top's Newsome
1x CMV Womens Undisputed Champion - Quinn-Belle
1x CMV Vixens Champion - Quinn-Belle
1x CMV Undisputed Champion - Chris Andrews
1x CMV International Champion - Chris Andrews
2x CMV Anarchy Champion - Chris Andrews
1x CMV Wold Tag Team Champion (Divine Affairs w/Paul Divine but Divine vacated his tag belt, making Brit Solo Tag Team Champ)
1x CMV Womans Intercontinental Champion - Dawn Bryan
1x CMV Tag Team Champion - Kid Campbell (Gladiators w/ Rashad Rockwell)
2x CMV Light Heavyweight Champion - El Jefe
1x CMV Tag Team Champion - Don Bishop (The Wanderers w/ Gavin Extreme)
Main Event Star!





Posts

: 3542


Join date

: 2015-12-11


Location

: (NEAR)... Leeds, England


Humor

: yes :D



Page 2 of 2 •

1, 2

Similar topics
---
Permissions in this forum:
You
cannot
reply to topics in this forum