Fusion & Genesis PPV List!
-Battlescars
-King of the Ring
-Exodus
-CyberSlam
-Tag Team Cup
-Validation
-Dark Carnival
-Point Break
-Regicide
-Wild Card
-Absolution
-Emergence
-Home Coming
-Cause & Effect
-Final Resolution
-Purgatory
-Ascendance
Fusion/Genesis Superstar of the Week!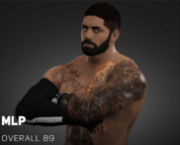 Who is more deserving of coming out last in the Elimination Chamber
It was revealed that Chet Taylor stole Terry Sherman's spot in the Royal Rumble! Now tonight Chet Taylor will go one on one with Eric Matthews' young Prodigy Doug Thompson who'll be looking to make his debut. Matthews has been disgruntled after  being eliminated by Chet and maybe young Doug can do his mentor a favor. However there'll be an X-Factor in this match as Marko Punish is set to accompany Chet Taylor to the ring tonight, still irritated after his record breaking rumble performance was cut to an end by Eric Matthews.
Elimination Chamber Placement Match
Up next is a huge match between these two Vixens, as of now, the Champion Sophia Caldwell and these two very Vixens are confirmed for the NXT Womens Intercontinental Championship Elimination Chamber. However, tonight we could find out which of these Vixens will walk into the match with the biggest advantage of them all, as the winner of tonights bout will enter number 6 in the Chamber, while the loser will come out first...
A new Superstar has the opportunity to make a HUGE impact tonight as Raging Rick Lewis, the boyfriend of the Vixens Champion Fury will be looking to make his debut against one of the most talented Superstars to ever grace a CMV ring, the former two time NXT Champion and former NXT Television Champion, Chris Adams. Rick will have to prepared for the biggest match of his career, in his first match.
Just three nights ago Lexin Damjen won the biggest match of her entire career when she got the rollup victory over Sophia Gibson to earn herself a singles match with a stipulation of her choosing against Jade Dynamite in four weeks at NXT UnChained for the NXT Womens Championship. However tonight Damjen must get through the former Number One Contender who was caught off guard by viscous strikes with the kendo stick at Takeover costing her the match.
After losing to D'Angelo St. Daniels and getting attacked after the match, Jaymes Landon Vain is trying to move on out of the way of D'Angelo St. Daniels however it seems he's stepped into the path of a bigger threat as Ivan who got embarressed during the Royal Rumble match, under-performing and getting very few eliminations, he'll be out for blood tonight and JLV is in the wrong place at the wrong time.
NXT Television Championship Match
Following up on his promise, Eric Matthews will be cashing in his rematch clause for the NXT Television Championship tonight knowing full well that Nick Blake cannot possibly be 100% after his grueling match with the former NXT Champion Akira just three nights ago. Any Nick Blake fans out their should be praying that Eric Matthews is not on his game tonight, otherwise you can say goodbye to that Title Reign.
In tonights Main Event we'll see third annual Royal Rumble winner take on the man many dubbed to win the match, Zack Starr, who is undoubtedly pissed that he's the first man in NXT history to come out at number 30 and not win. However August Happytown is on the top of the world right now and if Starr wants to pull off the upset he'll need to prevent his emotions from getting the better of him.
Picked by Maurie, the winner of the votes.
Aaron Waite Vs Blizzard
Sophia Caldwell Vs "1 Shot" Leona
Tops Newsome Vs Nick Blake
Sophia Gibson Vs Dirty Diana
Gerald Foster Vs August Happytown
Admin





Posts

: 5956


Join date

: 2015-03-09


Age

: 20


Location

: MizTV


Humor

: Making Sons uncomfortable



Universe messed up and switched the two rivalry matches around, Zack Starr-Happytown is now before the TV title and the game put JLV's match in the main event, and instead of Ivan he's now facing Terry Sherman.
Admin





Posts

: 5956


Join date

: 2015-03-09


Age

: 20


Location

: MizTV


Humor

: Making Sons uncomfortable



Maurie not even booking himself in the houseshow?
_________________
Accomplishments :

2018 Heel of the Year as Schmidty
2018 Newcomer of the Year as Schmidty
2018 Face of the Year as Bob Luger
2018 Promoer of the Year
1x European Champion as Schmidty
2x United States Champion as Schmidty
1x Undisputed Champion as Schmidty (current)
1x Alpha World Champion as Bob Luger
1x Dashing's ride or die chick
Main Event Star!





Posts

: 3295


Join date

: 2015-09-19


Age

: 21



Admin





Posts

: 5956


Join date

: 2015-03-09


Age

: 20


Location

: MizTV


Humor

: Making Sons uncomfortable




_________________
Accomplishments
Osiris - Black (2)
Main Event Star!





Posts

: 2608


Join date

: 2015-03-09



This is why I love you krzy xD
Admin





Posts

: 5956


Join date

: 2015-03-09


Age

: 20


Location

: MizTV


Humor

: Making Sons uncomfortable



that's legitimately what i see on my screen tho

_________________
Accomplishments
Osiris - Black (2)
Main Event Star!





Posts

: 2608


Join date

: 2015-03-09



---
Permissions in this forum:
You
cannot
reply to topics in this forum