CMV PPV LIST!
CROSSFIRE


—



SUPREMACY


—

BattleScars




Deathwish




Point Break




Emergence




Cause & Effect

Exodus




DefCon




Validation




CyberSlam




Regicide

Vendetta




Fortune




Absolution




Home Coming




Purgatory




Ascendance



When Supremacy returns from commercial break, we see Former World Heavyweight Champion, George King pacing in the middle of the Ring. The twitching of his eyes visible from the cheap seats.
George King:
I was robbed. I was robbed. I was robbed. There has been a great treason in The Kingdom of Destruction. I was cheated on the main event of Ascendance. PJ Moon you were done after the first Royal Flush. And you people may think that I'm blowing hot air out of my mouth right now but your wrong. I have proof. And don't you people worry. I already settle the crime for PJ Moon. You won't be seeing him anytime soon.
But you may be asking yourself, "My King, what proof?" Well I'll tell ya, you little peasants.  Show the image.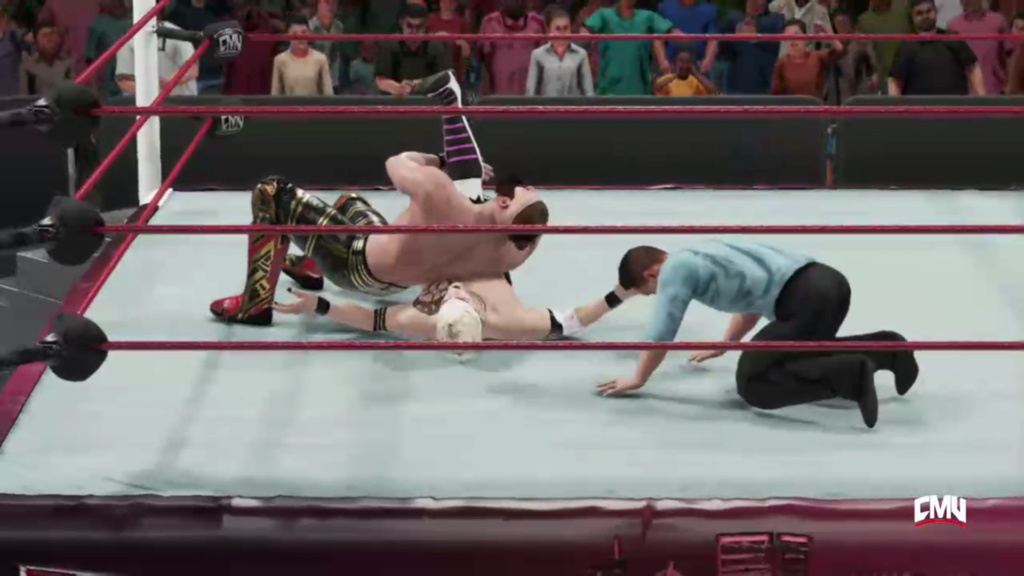 right there. Right there ladies and gentlemen men is that idiotic referee counting the three seconds before Moon kicked out. Loock closely. You see his hand. It's on the mat. It was a three. Don't want to believe me, let's ask the man himself.
George signals for the ref to enter the ring. He slowly approaches the ring. When he did get in the ring, he gradually got next to George.
Sir... Won't you tell us your name?
Referee:
I'm Murphy.
George King:
Murphy... Do me a favor and tell the peasants that are in attendance why you let the match continue after the three count?
Murphy:
I thought that PJ Moon kicked out. But I can see that from the image and replays of the show, that I was wrong and PJ Moon kicked out after the three count.
George King:
There you have it folks, from the man himself. The referee of the match. He was wrong, and I was ROBBED.
George King looks over at Murphy.
Murphy get out of my ring before I break your back.
Murphy hurries out of the Ring, as George takes a step towards him.
Now, as we saw early tonight Bob Luger and Chris Proudfoot were out here arguing. And Luger brings up a good point, I am entitled to a rematch for the Title I never LOST. So...
George King looks up at the ceiling of the building.
I don't care who you pray to. I don't care if God Himself choose you. I don't give a damn if you have God By Your Side. I don't give a damn if you have an Army. I don't Care if your God's Side Bitch. You are looking at The King of CMV no... The King of Wrestling. The man that has A Kingdom backing him up. The man that Dominated NGW. The Man That DOMINATED UNMATCHED. THE MAN THAT DOMINATED THE CHAMBER. I am George King, and Proudfoot, you and your God has something that belongs to me
And I am coming to collect. And when I leave you better bet that I will not only make you and your Army bend a knee to the rightful King, but your so called God will too.
George King tosses the microphone down and walks up the ramp.

_________________
Crowe - Anarchy Championship Fusion Tag Team Championship (The Anarchists)
Joe Dirte - NGW Tag Team Championship (The Kingdom) CMV Tag Team Championship (The Kingdom)
Maximum Rider - NGW Tag Team Championship (The Kingdom) CMV Tag Team Championship (The Kingdom)
George King - NGW Championship 2x - Final NGW Tag Team Championship (The Kingdom) - European Championship - Final Television Championship - First Internet Championship - CMV Tag Team Championship (The Kingdom) / Champion of Champion / CMV Undisputed World Championship
Tyson Cage - Fusion Tag Team Championship (The Bickering Duo)/Anarchy Championship 2x
Caleb Reed: Fusion Tag Team Championship (The Anarchists)
Jon Reed: Anarchy Championship

HellishxHades

Main Event Star!





Posts

: 1875


Join date

: 2016-01-22


Age

: 22


Location

: Ohio



---
Permissions in this forum:
You
cannot
reply to topics in this forum