Fusion & Genesis PPV List!
-King of the Ring
-Exodus
-CyberSlam
-Tag Team Cup
-Validation
-Dark Carnival
-Point Break
-Regicide
-Wild Card
-Absolution
-Emergence
-Home Coming
-Cause & Effect
-Final Resolution
-Purgatory
-Ascendance
Fusion/Genesis Superstar of the Week!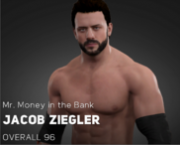 Page 1 of 3 • 1, 2, 3

Who do you think is most likely to go all the way in the Tornado Tag Tourney?
Saturday Night Genesis: Episode 209!
LIVE from the sold-out Blue Cross Center in Rochester, New York!!!
Purgatory Card Thus Far!
:
(Subject to Change.)
-Hayden vs. Sushi-X inside of Hell in a Cell!
-Bryan Novak (c) vs. JustIN Sane for the CMV Undisputed championship!
-? ? ? vs. X-Gen for the CMV Tornado Tag Team championship!
-Duke vs. Elijah Stewart in a Last Man Standing match!
-Andrew Briggs vs. Kristopher Ann vs. Shanaz Andoni (c) for the CMV Light Heavyweight championship!
-Fury vs. Quinn-Belle inside of Hell in a Cell!
-Randy Borton vs. Kendall Wolfe!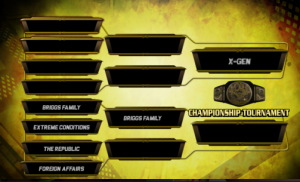 ----- ----- ----- ----- -----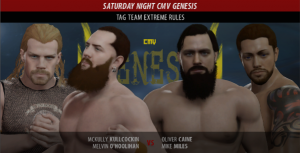 Kicking things off tonight here on Saturday Night Genesis; is the second match of the round 1 set for the Tornado Tag Team Tournament. The winner of this match will be propelled into the Semi-Finals with The Briggs Family. Foreign Affairs make their triumphant return against the Republic! Both teams want that gold at the end of the Tournament, but even if they get there, legendary Tag Team, XGEN awaits them with baited breath. It's sure to be a great match as this is one helluva way to kick off a show.
In an Exhibition Match, Xander Slate takes on Zack Cage in singles competition. Both of these men are well known CMV superstars but who will come out on top? Xander Slate not known to show mercy and Cage known to Super Kick and chill. But will Cage's dismissive demeanor be his downfall? Find out tonight!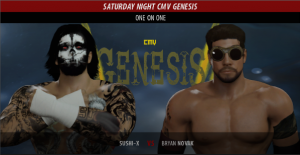 Current CMV Undisputed World Heavyweight Champion, Bryan Novak takes on the Asian Sensation, Sushi-X in a harrowing match of titans. Novak, recently crowned "top-dog" after defeating Randy Borton at Absolution. Sushi-X, on a roll ever since defeating Justin Sane in what is sure to be a Match of the Year candidate come end of this year. Will Sushi pull out all the stops as he did with Sane or will Novak's Novacain bring the moon out on the Rising Sun?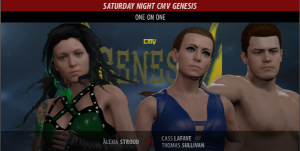 Alexia Stroud takes on the brash and rude, Cass LaFave in a one-on-one Vixen's match. Cass LaFave, being tossed out of the Vixen's Royal Rumble second at Absolution, should be disturbed; and no one wants a disturbed Mama Cass. Accompanying LaFave once again is her man-valet, Thomas Sullivan. Can Alexia Stroud overcome these borderline "unfair odds" and prove herself one step closer to #1 contender for the Vixen's Championship?Number #1 Contenders Match for the INTERNATIONAL CHAMPIONSHIP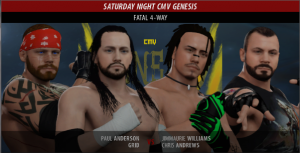 After the Vixen's take the stage, four-men will clash like waves against each other in a pivotal match in current CMV history. At the top of the week, the Anonymous General Manager announced that the  winner of this match will be crowned the new #1 Contender for Morgan Jackson's International Championship. Whether it be Former Undisputed World Heavyweight Champion Paul Anderson, Tag Team icon, Chris Andrews, Samoan New-Comer, Grid or recently dethroned International Champion, Jimmaurie Williams, the winner of this match will be one step closer to capturing sweet, sweet gold... But who will it be?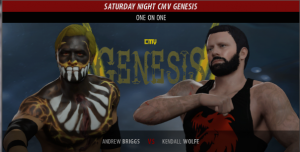 2018 Absolution Royal Rumble winner and returning CMV Superstar Kendall Wolfe battles Light Heavyweight contender Andrew Briggs in one-on-one action. After winning the Royal Rumble, one would think Wolfe has too much momentum to be stopped by Briggs. But the Demon may have yet untapped potential as he takes on one of the bigger names on the CMV Roster. One thing's for certain, both men will need any type of momentum they can get. Andrew for his tough battle for Shanaz' Light Heavyweight Championship and Kendall for his eventual battle with the Undisputed World Heavyweight Champion at Ascendance... whoever that might be.
Main Event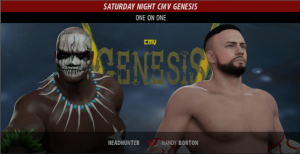 It's a rematch for the century as Randy Borton, the Moomoo Man himself takes on the titanic colossus; Headhunter. Headhunter has already once claimed Borton as his victim and losing ones title so recently might have left a chip on young Randall's shoulder. But the fans are behind him and they won't let Milkamania die! Everyone's pulling for Borton to shake off the doubters and defeat Headhunter! Let's just hope that Paul Heyman won't be in the mix. The Main Event promises to be a gargantuan one as these two CMV giant's collide!
_________________
IT'S TIME
Main Event Star!





Posts

: 2217


Join date

: 2015-08-29


Age

: 25


Location

: New York


Humor

: Slapstick



_________________
Main Event Star!





Posts

: 2630


Join date

: 2015-05-13


Age

: 18


Location

: Ontario, Canada


Humor

: Dashing's jokes



Its pretty clear xgen is going to win the championship

_________________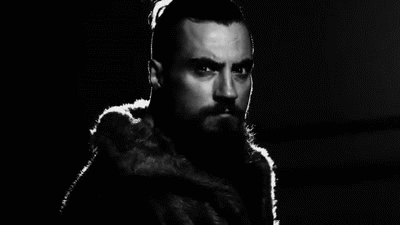 Ryan Kent
1x NXT champion
Former money in the bank holder!
1x Undisputed champion
1X NXT tag champs
1X CMV Tag Champs
1x Hardcore Champion
1x International champion
1x Light Heavyweight champion
The man with the most title defences in CMV history!
CMV second ever grand slam champion!
Sean Kent
1x Fusion tag champs
Main Event Star!





Posts

: 600


Join date

: 2015-03-28


Age

: 17


Location

: United Kingdom



_________________
Accomplishments :

2018 Heel of the Year as Schmidty
2018 Newcomer of the Year as Schmidty
2018 Face of the Year as Bob Luger
2018 Promoer of the Year
1x European Champion as Schmidty
2x United States Champion as Schmidty
1x Undisputed Champion as Schmidty (current)
1x Alpha World Champion as Bob Luger
1x Dashing's ride or die chick
Main Event Star!





Posts

: 3257


Join date

: 2015-09-19


Age

: 21



I'm afraid The Fallen are becoming like The Ascension
_________________

Accomplishment:
Crowe - Anarchy Championship 
Tyler Endicot - Rising Star Championship
Joe Dirte - NGW Tag Team Championship (The Kingdom)
Maximum Rider - NGW Tag Team Championship (The Kingdom) 
George King - NGW Championship - Final
                         NGW Tag Team Championship (The Kingdom)        
                         European Championship 
Tyson Cage - Fusion Tag Team Championship (The Bickering Duo)
Angelina Hawkins - Women's Intercontinental Championship
Main Event Star!





Posts

: 1121


Join date

: 2016-01-22


Age

: 19


Location

: Ohio



Live 2day my children, early, will let yall know <3
Admin





Posts

: 4223


Join date

: 2015-03-08


Age

: 20


Location

: The Hood


Humor

: Knock knock!



I mean how early, will it be earlier than 6pm EST?
Admin





Posts

: 5938


Join date

: 2015-03-09


Age

: 20


Location

: MizTV


Humor

: Making Sons uncomfortable



knowing dashing, it will be between 7-8pm EST
_________________
Main Event Star!





Posts

: 2630


Join date

: 2015-05-13


Age

: 18


Location

: Ontario, Canada


Humor

: Dashing's jokes



I got a 25 Dollar Xbox Card on Headhunter winning.
_________________
Accomplishments :

2018 Heel of the Year as Schmidty
2018 Newcomer of the Year as Schmidty
2018 Face of the Year as Bob Luger
2018 Promoer of the Year
1x European Champion as Schmidty
2x United States Champion as Schmidty
1x Undisputed Champion as Schmidty (current)
1x Alpha World Champion as Bob Luger
1x Dashing's ride or die chick
Main Event Star!





Posts

: 3257


Join date

: 2015-09-19


Age

: 21



Page 1 of 3 • 1, 2, 3

---
Permissions in this forum:
You
cannot
reply to topics in this forum