Fusion & Genesis PPV List!
-Battle Scars
-Anarchy Rulz
-Exodus
-CyberSlam
-Validation
-Point Break
-Regicide
-Home Coming
-Absolution
-Purgatory
Fusion/Genesis Superstar of the Week!
Page 1 of 3 • 1, 2, 3

Next week's Fusion is the go home show before the fourth annual Ascendance, which match would you prefer to see main event?
Monday night Fusion: Episode 47!
LIVE from the Edwards Hall in Miami, Florida!!!Ascendance card thus far!
(Subject to change.)
Day 2!
-Randy Borton vs. Kendall Wolfe vs. Bryan Novak (c) for the CMV Undisputed World Heavyweight championship!-Kitty Quinn-Belle (c) vs. Jade Divine for the CMV Vixens championship!-Bison vs. The Undertaker!-Tag Team Turmoil match for the CMV Tornado Team championship! Featuring: The Briggs Family (c), The Republic, The Bromancers, Vicious & Delicious, WEB & The Fast & The Furious!-Jimmaurie Williams & Headhunter vs. Extreme Conditions!-Brett Angel vs. JustIN Sane!-Nick Blake vs. Billy Weaver inside of a Steel Cage!
Day 1!
-Hayden vs. Quantum!-Jaxon Jordan vs. Kevin Lee vs. Tim LaFave vs. Chris Andrews (c) for the CMV International championship!-Elijah Stewart vs. DJ Moore!-Jeff Wallace vs. Sushi-X (c) in a No Holds Barred match for the CMV Anarchy championship!-The Fallen vs. The Unholy Alliance-Andrew Briggs (c) vs. Ryan Kent for the CMV Light Heavyweight championship!-Bob Luger's Arm Wrestling Challenge!-Slick B Memorial Battle Royal!
The first annual Queen of the Ring tournament!
Semi-final match-ups:
-Cassie Maverick vs. Alexia Stroud
-Casey Wilson vs. Fury
----- ----- ----- ----- -----
With Ascendance on the horizon and Nick Blake getting ready to finally put his fierce rivalry with Billy Weaver to an end inside of the demonic steel cage, tonight is about nothing more than payback for the former Television champion, as he goes one on one with his attacker from two weeks ago, The God of Death, Duo Maxwell!
In his singles debut on CMV's flagship show, former UnMatched World champion, Brett Angel, will be looking to send an emphatic message to his Ascendance opponent, JustIN Sane, at the expense of the currently struggling, Ryan Colt.
After both men had their turn at blindsiding the other this past month, the 2018 CMV Royal Rumble winner and the reigning Undisputed champion will step into the ring against each other, just two weeks before they're set to headline the show of shows alongside The Milk Man, Randy Borton, who's undoubtedly salivating at the thought of his foes tearing each other apart.
As these four men prepare to make their Ascendance debuts against equally formidable foes, tonight they seek to gain that sweet, sweet momentum at the expense of one another.
Troy Meyers said that he wanted a fight and boy is he getting one, when he makes his main show debut against the living legend, JustIN Sane, whose only goal is to make it perfectly clear to his Ascendance foe, Brett Angel, the kind of grave that he's dug for himself.
It's time to see who will be securing themselves the first spot in the inaugural Queen of the Ring finals at Ascendance, when The Cowgirl, Cassie Maverick, locks horns with the dark horse of this tournament, Alexia Stroud!
The Hell Hound will be on the hunt for his fifth reign as CMV World Tag Team champion in tonight's main event, as he pairs up with his mortal enemy and Ascendance opponent, Hayden "Blade" Kiteley, who'll be trying to add to his already impressive and legendary list of accomplishments, a run as Tag champ. Put into play by general manager, Johnny Sampson, who claimed that the CMV universe marked pretty hard when Quantum and The A-Lister teamed together last week to dispatch of WEB, The Future Man said himself that he doesn't trust Hayden as far as he can throw him, and everyone knows that the three-time World champion isn't exactly a team player. But with gold on the line, as we've seen happen in the past, can these two veterans pull it together for one night only in order to make history?
_________________
1x Mr. Money in The Bank, 2x World Heavyweight Champion, Glammy Award for Heel of the Year
Xander Slate
Admin





Posts

: 3093


Join date

: 2015-03-08


Age

: 20


Location

: The Hood



Hasn't referred to himself as an a lister for literally a whole season
_________________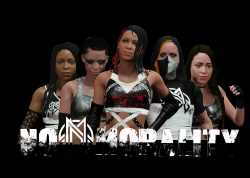 Aarons views on the Indys:
Admin





Posts

: 4601


Join date

: 2015-03-09


Age

: 20


Location

: MizTV



This is a first, all 3 of my dudes being on the same card.


_______________________________

Jon Reed
Crowe
Alexia Stroud
_________________
My Caws::


Jon Reed - Genesis
Crowe - Fusion
Mason Miller - Intensity
Phillip Melick - Unmatched
Angelina Hawkins - Ferocity
Christine Lashley - Ferocity
Lance Griffen - Genesis
Tyson Cage - Fusion (Reality Wrasslin)
Jacob Hardway - Intensity

Midcard Playboy





Posts

: 392


Join date

: 2016-01-22


Age

: 19


Location

: Ohio



HellishxHades wrote:This is a first, all 3 of my dudes being on the same card.


_______________________________

Jon Reed
Crowe
Alexia Stroud
Meanwhile.... i'm not even booked.... Well Andrews has had a good run, so can't complain with high quality opponents he`s had this past month or so.
_________________
1x CMV Television Champion - Top's Newsome
1x CMV Vixens Champion - Kitty Quinn-Belle
1x CMV International Champion - Chris Andrews
2x CMV Anarchy Champion - Chris Andrews
1x CMV Womans Intercontinental Champion - Dawn Bryan
1x CMV Tag Team Champion - Kid Campbell (Gladiators w/ Rashad Rockwell)
1x CMV Light Heavyweight Champion - El Jefe
Main Event Star!





Posts

: 2209


Join date

: 2015-12-11


Location

: Leeds, England



Can you tell Hayden to get his hand out from Quantums face please? Or I'll tell mom...


Is this on the 4th??? Or will you bless us tonight?
Main Event Star!





Posts

: 663


Join date

: 2015-03-27



_________________
Main Event Star!





Posts

: 2069


Join date

: 2015-09-19


Age

: 21



Kevin Nash wrote:Good Luck to Nick Blake
Here's hoping.
Main Event Star!





Posts

: 1516


Join date

: 2015-08-29


Age

: 25


Location

: New York



Bro Blake and Billy have the best build up coming into Ascendance.
_________________
Main Event Star!





Posts

: 2069


Join date

: 2015-09-19


Age

: 21



Admin





Posts

: 3093


Join date

: 2015-03-08


Age

: 20


Location

: The Hood



Page 1 of 3 • 1, 2, 3

---
Permissions in this forum:
You
cannot
reply to topics in this forum