Fusion & Genesis PPV List!
-Battlescars
-King of the Ring
-Exodus
-CyberSlam
-Tag Team Cup
-Validation
-Dark Carnival
-Point Break
-Regicide
-Wild Card
-Absolution
-Emergence
-Home Coming
-Cause & Effect
-Final Resolution
-Purgatory
-Ascendance
Fusion/Genesis Superstar of the Week!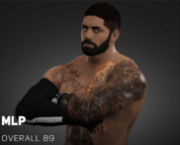 Page 1 of 8 • 1, 2, 3, 4, 5, 6, 7, 8

Who do you think is the greatest King of the Ring in CMV history?
CMV King of the Ring: Episode 239!
LIVE from The O2 Arena in London, England!!!
----- ----- ----- ----- -----
It's good to have friends . . . Following Megan Cooper's encounter with instant karma earlier this week on Monday night Fusion, receiving a minor concussion whilst attacking Jade Divine, Cole Savage has refused to allow his client to compete here tonight for the CMV Vixens championship. Instead, he's sending in one of his most trusted pals, Miss Roxanne, to battle The Cheeky Japanese girl as Cooper's proxy. America's Sweetheart is NEVER one to back down from a challenge, and with fellow X-Gen sister, Cass LaFave, watching her back, Divine is set to crumple Ice Cold's entire unit.
For weeks now, Pierre Thompson has been nagging Xander Slate for a rematch after feeling slighted in their first confrontation last month. With the OG Dirty Heel feeling some type of way himself after being left out of this year's King of the Ring tournament, he'll be looking to take out his aggression on his old chum and send a strong message to general manager, Johnny Sampson, that he is NOT to be toyed with!
In what was certainly a major upset late last month, Azreal unseated Tim LaFave as the CMV International champion. The BOA has been on one of the most impressive tears that this company has ever seen, setting out to prove just why he was the number two draft pick for Genesis, and why he SHOULD have been number one . . . But tonight, Big Azzhole faces a game Timmy boy who has everything to gain and nothing to lose, never underestimating ANY of his opponents, LaFave has given Azreal credit where credit is due, but has no plans on walking out of The O2 Arena tonight empty-handed!
Four years ago, these two men, under different names and fresh to the world that is CMV, clashed for the first time ever on the grandest stage of them all. Fast forward through everything that has transpired in their respective careers since, the championships, the awards, the unforgettable moments . . . It always comes back to this match for Quantum; the one superstar that he has never beaten despite multiple opportunities. Now, JustIN Sane is the only thing that stands between The Hell Hound and his hunger for that Undisputed World Heavyweight championship. He's not only fighting for himself here tonight, he's not even carrying just his brother Sushi's future alongside him, but the future of this company as we know it . . . Does Quantum truly have what it takes to quell The Unpredictable One once and for all; or will Sane yet again have his way and tower above his victim in victory?
Emanating LIVE from the good ole UK and the famous O2 Arena, eight CMV superstars will strive to go down in the history books as the fourth ever King of the Ring!
_________________
1x CMV Anarchy champion
1x CMV Tag Team champion
Bludgeon
1x Mr. Money in The Bank, 2x World Heavyweight Champion, 1x United States champion, Glammy award for Feud of the Year, Glammy Award for Heel of the Year
Xander Slate
Lol
Admin





Posts

: 4279


Join date

: 2015-03-08


Age

: 20


Location

: The Hood


Humor

: Knock knock!



The predictions contest returns! Well, sorta . . . Considering this isn't an actual PPV but a special event, the winner will only get to book one match on Fusion and one match on Genesis, no dank ass custom colored name </3

Tie-breaker will be:
To predict the unfolding of the ENTIRE tournament, so for example not just "Brit will win" but "Brit, Novak, Marcantel, Borton > Brit, Marcantel > Marcantel"
Admin





Posts

: 4279


Join date

: 2015-03-08


Age

: 20


Location

: The Hood


Humor

: Knock knock!



OMG THE DREAM MATCH HAS COME, YOUR NOT GETTING AWAY NOW BORTON
Last edited by DynamicEnigma on Fri Sep 02, 2016 2:10 pm; edited 1 time in total
_________________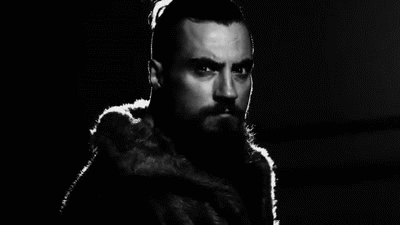 Ryan Kent
1x NXT champion
Former money in the bank holder!
1x Undisputed champion
1X NXT tag champs
1X CMV Tag Champs
1x Hardcore Champion
1x International champion
1x Light Heavyweight champion
The man with the most title defences in CMV history!
CMV second ever grand slam champion!
Sean Kent
1x Fusion tag champs
Main Event Star!





Posts

: 612


Join date

: 2015-03-28


Age

: 17


Location

: United Kingdom



Yes Andrews vs Sushi 1st time ever, hope no rape dungeons will be used tho....


i'll do predictions in a bit
_________________
1x CMV Television Champion - Top's Newsome
1x CMV Womens Undisputed Champion - Quinn-Belle
1x CMV Vixens Champion - Quinn-Belle
1x CMV Undisputed Champion - Chris Andrews
1x CMV International Champion - Chris Andrews
2x CMV Anarchy Champion - Chris Andrews
1x CMV Wold Tag Team Champion (Divine Affairs w/Paul Divine)
1x CMV Womans Intercontinental Champion - Dawn Bryan
1x CMV Tag Team Champion - Kid Campbell (Gladiators w/ Rashad Rockwell)
2x CMV Light Heavyweight Champion - El Jefe
1x CMV Tag Team Champion - Don Bishop (The Wanderers w/ Gavin Extreme)
1x CMV World Tag Team Champions - Police Squad
Main Event Star!





Posts

: 3562


Join date

: 2015-12-11


Location

: (NEAR)... Leeds, England


Humor

: yes :D



I'm gonna go crazy if Marcantel vs Borton happens again for the millionth time
_________________
Midcard Playboy





Posts

: 374


Join date

: 2015-06-28


Age

: 18


Location

: Somewhere in Florida


Humor

: Setting things on fire and seeing people get hurt



Here Kotr and I will edit in others
Jade divine
XANDER slate
Tim
Quantum (this is really tough... As I want to pick sane... But I have faith in mah main filet.
Sushi X\      
.  
Sushi X
Ace.     /                                               
Sushi X wins
Marcantel \    
Ryan Kent
Ryan Kent/
_________________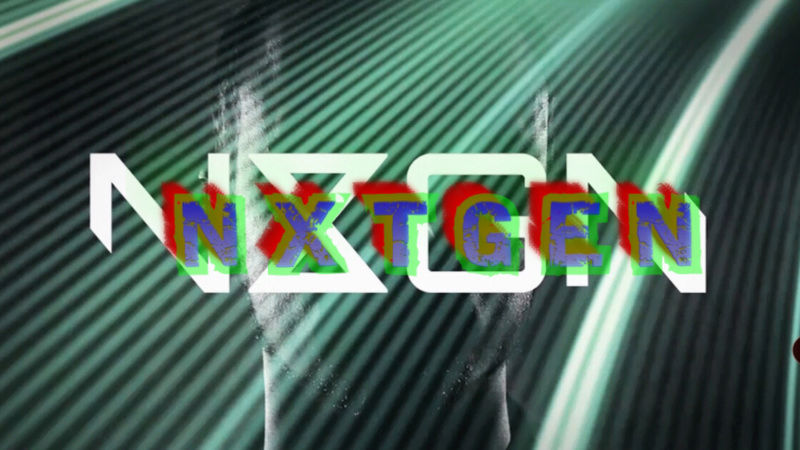 Main Event Star!





Posts

: 706


Join date

: 2015-03-27



Jade Divine

Pierre Thompson

Azreal

Justin Sane


Andrews vs Sushi-X; Winner: Andrews

Ace Stevens vs Bryan Novak; Winner: Novak

Andrews vs Novak;Winner: Novak

Jeff Wallace vs Marcantel; Winner: Marcantel

Ryant Kent vs Randy Borton; Winner: Kent

Kent vs Marcantel; Winner: Kent

Kent vs Novak; Winner: Novak


_________________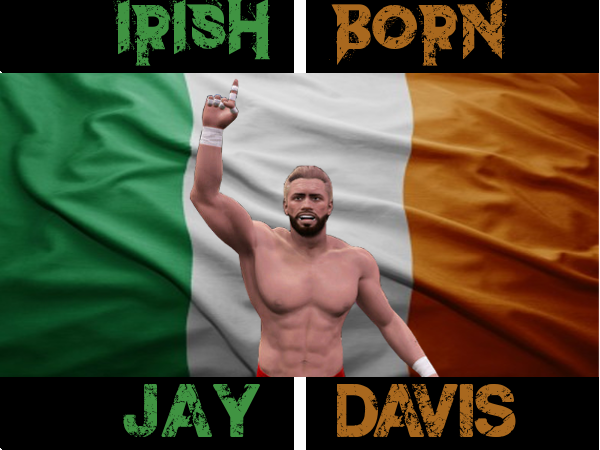 Jay Davis: 1x Light Heavyweight Champion{Current}
Guri Sukonov: 1x International Champion [Current]
Jaquan Shay: 1x Anarchy Champion[Current]
Trey Diamond
Ushio Takato
El Guerrero Furioso: 1x Rising Star Champion
Amanda Davis
Team Elite
Main Event Star!





Posts

: 965


Join date

: 2016-07-18


Age

: 16


Location

: New York, Sahn!!


Humor

: Hellish



My Pre-Diq-tions for the Kang of the Rang
Jade Divine def. Ms. Roxanne
'Primetime' Pierre Thompson def. Xander Slate
Azreal def. Tim LaFave
Justin Sane def. Quantum
===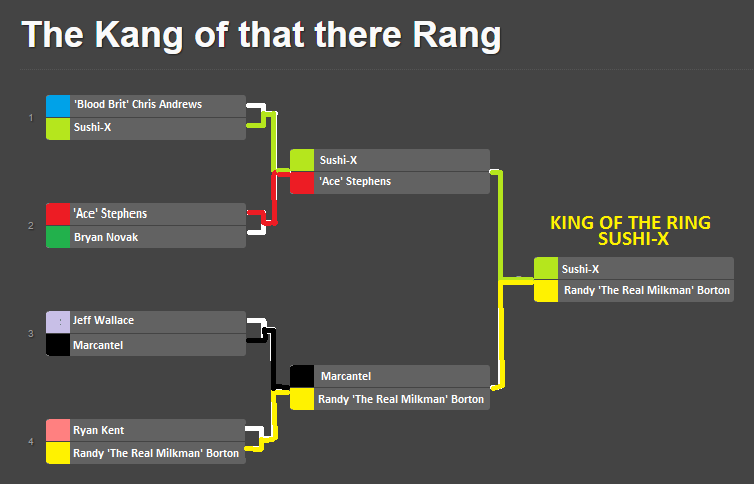 Last edited by TimLaFave on Fri Sep 02, 2016 3:44 pm; edited 1 time in total
_________________
IT'S TIME
Main Event Star!





Posts

: 2217


Join date

: 2015-08-29


Age

: 25


Location

: New York


Humor

: Slapstick



Jade Divine
Pierre Thompson
Azreal
Quantum

KoR
Brit                            
Stephens        
Marcantel  
Borton      

Brit
Borton

Winner = Bloody Brit
_________________
My CAW's:
Fury-2x CMV Vixens Champion 1x CMV Womens IC Champion
Mannoroth
Grid & Animal- The Blood Brothers- 1xTornado Tag Champions
Gavin 'Extreme' Wheeler- The Wanderers -1XTag Team Champion with THE BISH
Jenny Wheeler
Takeshi Matsumoto- New Orient Express -1xTag Team Champion with Mr Showtime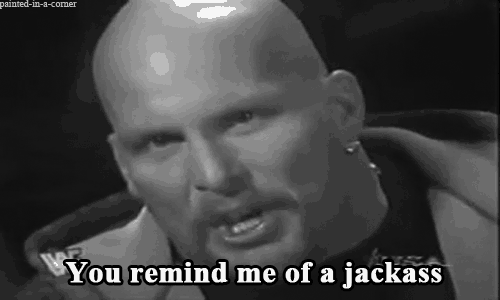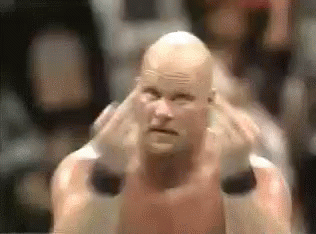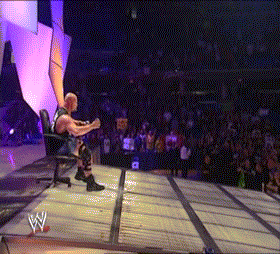 Midcard Playboy





Posts

: 429


Join date

: 2015-12-12


Age

: 24



Page 1 of 8 • 1, 2, 3, 4, 5, 6, 7, 8

---
Permissions in this forum:
You
cannot
reply to topics in this forum