Fusion & Genesis PPV List!
-Battle Scars
-King of the Ring
-Exodus
-CyberSlam
-Tag Team Cup
-Validation
-Dark Carnival
-Point Break
-Regicide
-Wild Card
-Cause & Effect
-Emergence
-Home Coming
-Absolution
-Final Stand
Fusion/Genesis Superstar of the Week!
Page 1 of 3 • 1, 2, 3

Does Eric Matthews have the quality to beat Aaron Waite tonight?
Stream Times
Wednesday-12am GMT-Intensity
Wednesday-10pm GMT-Arrival
Saturday-10pm GMT-UnMatched
Sunday-11pm GMT-Intensity
Marko Punish Vs Sunshine
Kane Vs D'Angelo St. Daniels
Zack Starr/Ricky Spanish Vs Aaron Waite/Johnny Sampson
Schmidty Vs Lorin Seoul
The Bringers of Despair Vs Buddy and Brutus
Dirty Diana Vs Sophia Gibson
Jade Dynamite & Lexin Damjen Vs Kristen Page & Raven Skye
Tops Newsome Vs Gavin Extreme

Kicking off the show tonight we see the debut of one of the hottest free agents going today, Voice Vindy who takes to arms against Byran Sanders to kick tonights show off with a bang in what is sure to be an explosive match
It's been quite a while since we've seen Heaven or Hell in action, having returned to the company several months ago, well tonight they take to the ring against the current CMV Tag Team Champions The Bringers of Despair ahead of their Title defence in just 2 days time where they look to retain against Buddy and Brutus.
Up next we see the current Number One Contender for the CMV Television Championship take on the Haitian witch doctor Satoru in some singles action. This could well see Gavin Extreme pick up some more momentum on his quest for gold, however Satoru will be fuming tonight after the brawl between himself and Osiris backstage last week.
This isn't just any Fatal Fourway match, as it contains some stipulations regarding the Womens Intercontinental Championship at Arrival. The winner of this match will challenge for the belt at Arrival in just two days time, however, if Ashleigh Infinitee is able to pick up the win in this fourway, her Championship will not be put on the line in two days time.
Tops Newsome now knows who his opponent is at Arrival and so tonight he puts his skills to the test against the longest reigning CMV Television Champion of all time, Zack Starr who'll be walking into Arrival looking for a chance to earn a shot at the Global Championship and win back his buddy Ricky Spanish's contract too. Both men need the momentum, but only one can walk away with it.
Six Vixen Tag Team Action
In tonights Co-Main Event two of the Vixens Matches at Arrival combine for what is to be colossal six Vixens Tag Team Match as the current Number one contender Sophia Gibson teams up with Jade Dynamite and Lexin Damjen to face the current Womens Champion Dirty Diana alongside Kristen Page and Raven Skye.
Last week Eric Matthews said he had the resume, the prestige and the track record to deserve a chance to qualify for this years Money in the Bank ladder match, he also said he could be the current Global Champion anytime, anywhere, well now he's going to have to prove it, for if he wants to even have a chance at qualifying for Money in the Bank, he'll have to best Aaron Waite here tonight in the Main Event.
Carter Bennett Vs Don Bishop
Ashley Carter & Maddy Zendran Vs Cassie Maverick & Rachel Grant
Omega Lee Vs Logan Hail
Last edited by Miztacular on Mon 8 Aug 2016 - 18:23; edited 1 time in total
_________________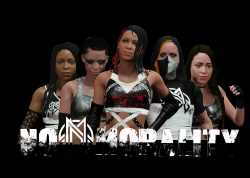 For the record that tag match is not elimination was in a rush when I made the card, pls ignore
_________________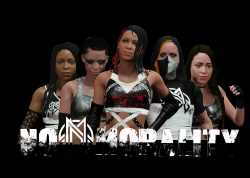 Tuesday eh? I might get to watch this then.

_________________
My Characters
Rage - Current CMV Global Champion
Cassie Maverick - 2x IC Champion, 2x Vixen's Champion
Mr. Showtime - Former Tag Team Champion
Bill Maverick
Gluttony
The Jezebels (Susanna and Valderiss)
Main Event Star!





Posts

: 910


Join date

: 2015-09-13



Don't lemme down, Voice... Or I'll murder your family...
Main Event Star!





Posts

: 1988


Join date

: 2015-08-29


Age

: 25


Location

: New York


Humor

: Slapstick



After watching Tia`s last match, i remembered i edited her moveset ages ago, think i pm'd you it cuz i changed the gutwrench suplex (no wonder Tim was like here we see TopZilla's love all things 3) and the GTS kick....

If i re-upload her moveset, can you dl it?
Last edited by topher316 on Mon 8 Aug 2016 - 16:02; edited 1 time in total
_________________
1x CMV Television Champion - Top's Newsome
1x CMV Vixens Champion - Kitty Quinn-Belle
1x CMV Undisputed Champion - Chris Andrews
1x CMV International Champion - Chris Andrews
2x CMV Anarchy Champion - Chris Andrews
1x CMV Wold Tag Team Champion (Divine Affairs w/Paul Divine but Divine vacated his tag belt, making Brit Solo Tag Team Champion)
1x CMV Womans Intercontinental Champion - Dawn Bryan
1x CMV Tag Team Champion - Kid Campbell (Gladiators w/ Rashad Rockwell)
2x CMV Light Heavyweight Champion - El Jefe
1x CMV Tag Team Champion - Don Bishop (The Wanderers w/ Gavin Extreme)
Main Event Star!





Posts

: 3024


Join date

: 2015-12-11


Age

: 99


Location

: (NEAR)... Leeds, England


Humor

: yes :D



If I change all my strong strikes to Superkicks will you download it then?
_________________
Luther Thunder: 1x European Champion
Rashad Rockwell:1x Tag Team Champion with Kidd Campbell
Eligah Stewart
: 1x Tag Champion with DJ Moore
Jimmaurie Williams
:  2x CMV International Champion. Debut Episode 109.
Parker: 1x European Champion
Anthony Brown: 1x Television Champion
Main Event Star!





Posts

: 1879


Join date

: 2015-08-18


Age

: 14


Location

: United States


Humor

: South Park



Tweet From Newly Signed DOC:

@DOC So glad to see my boy @VoiceVindy compete in his first official CMV match tonight! #IndyBrothers
_________________
Accomplishments :

2018 Heel of the Year as Schmidty
2018 Newcomer of the Year as Schmidty
2018 Face of the Year as Bob Luger
2018 Promoer of the Year
1x European Champion as Schmidty
2 x United States Champion as Schmidty
1x Alpha World Champion as Bob Luger
Main Event Star!





Posts

: 2702


Join date

: 2015-09-19


Age

: 21



After Dashing's Stream today maybe?
_________________
My Characters
Rage - Current CMV Global Champion
Cassie Maverick - 2x IC Champion, 2x Vixen's Champion
Mr. Showtime - Former Tag Team Champion
Bill Maverick
Gluttony
The Jezebels (Susanna and Valderiss)
Main Event Star!





Posts

: 910


Join date

: 2015-09-13



Page 1 of 3 • 1, 2, 3

---
Permissions in this forum:
You
cannot
reply to topics in this forum