Fusion & Genesis PPV List!
-Battle Scars
-Anarchy Rulz
-Exodus
-CyberSlam
-Validation
-Point Break
-Cause & Effect
-Home Coming
-Absolution
-Purgatory
Fusion/Genesis Superstar of the Week!
Page 1 of 3 • 1, 2, 3

Are you happy with the roster picks for Genesis?
Thursday night Genesis starts it's first night with it's new roster on episode 53!
LIVE! from the Silver Spurs Arena in Kissimme, Florida!!!
Anarchy Rulz card thus far!
[Subject to change.]
-Hayden vs. JustIN Sane (c) for the CMV Undisputed World Heavyweight championship!
-Shiloh Gray vs. Chris Andrews in an Anarchy Rulz match!
-Anarchy Rulz Light Heavyweight championship gauntlet match!
* - - - | - - - | - - - *
The Opener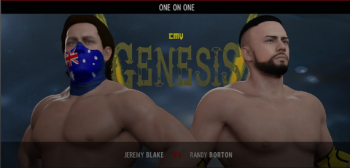 To start off the "new" Genesis, former 2 time Undisputed Champion, 3 time Anarchy Champion and former Mr. Money in The Bank, takes on former 1 time International and the first ever Anarchy Champion in the returning Jeremy Blake! It's been a long while since Blake's been in a CMV ring and while he's been away Borton's been on a tear. Can Jeremy shake off the ring rust and show that he hasn't missed a step?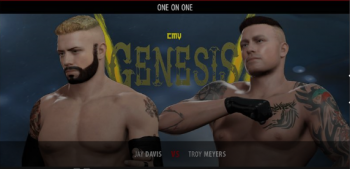 Jay Davis and Troy Meyers have had a rocky relationship and it's reached it's boiling point here, on the first episode of the brand-split Genesis. After losing their match against the legendary XGEN as The Rebels, the two men have gone their separate ways in CMV. But before they truly part, they'll battle each other tonight in this singles match. But who will prove that they were the weak link when tagged together?Light Heavyweight Championship Bout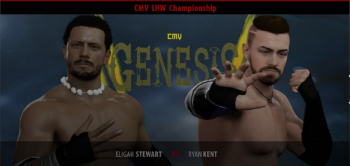 Claiming he never wanted the Light Heavyweight Championship to begin with, Ryan Kent has been begging other CMV superstars to take it off his hands. Eric Thunder was unable to wrestle the belt from Kent at Battle Scars, but now Eligah Stewart gets his opportunity tonight. But after that death defying spot in the Money in The Bank ladder match, does Stewart have it in him to take the belt from former XGEN stablemate, Ryan Kent?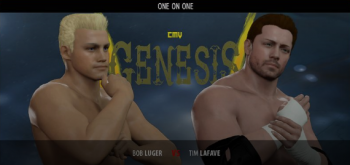 Number 1 Genesis draft pick, Tim LaFave, takes on the very last pick, Bob Luger. The two work ethic kings take each other on in what promises to be a technical masterclass. A win here is the type of momentum Tim needs as he gears up to take on Azreal in his rematch for the International Championship. And Bob Luger needs any type of momentum if he plans to show the CMV Universe what the name "Luger" truly means.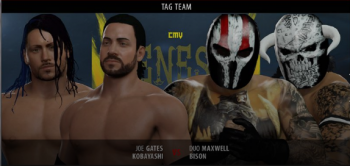 In a fan booked match, Kobayashi and Joe Gates take on two of the most vicious CMV superstars in it's long history. Bison, once known as the new blood breaker and Duo Maxwell, a former Undisputed Champion, are now one of the most dangerous tag teams on Genesis. Can Gates and Kobi prove that size doesn't matter and bring down the titans of CMV?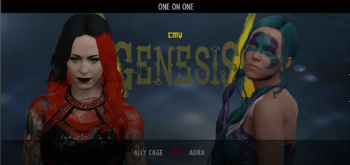 The first Vixen's match of the new Genesis takes place now, in the co-main event. Ally Cage, the winner of a vicious triple threat match two weeks ago and Aura, who's been on a bit of slope, take each other on. Can Cage proceed to build momentum as she pushes forward; or will Aura finally show signs of life and drive Ally into the canvas with her Osaka Street Cutter?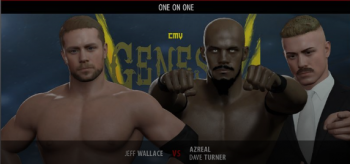 Iiiiiiiiiiiiiiiiiiiiiiiiiiiiiiiit's

TIME!

In our main event, International Champion, Azreal, takes on Jeff Wallace, one-third of WEB, in this singles match. Azreal, who's flanked by the new general manger of Genesis, Dave Turner, has a lot to prove after losing the Money in The Bank match and with Tim's rematch for the International Championship looming over him, can he push past the numerous distractions and beat one part of the fiercest trio in CMV? And what about Wallace? After going home empty-handed after their Clean Slate match, can he push aside his losses to show the International Champion that WEB is still kicking? And as always, a win over a champion of any kind always puts the contender on the board for title shot in the future.

Let's not forget!
The 3 matches on the Live Event!
= Crowe vs. Furious Frank =
= Alexia Diamond vs. Mya Cruz vs. Danielle Ward vs. Alexia Stroud =
= Kenji Murakami vs. Marcantel =
Main Event Star!





Posts

: 1500


Join date

: 2015-08-29


Age

: 25


Location

: New York



Luger/LaFave is gonna be fun to watch.
_________________
Main Event Star!





Posts

: 2046


Join date

: 2015-09-19


Age

: 21



Hopefully we knock it out of the park.
Main Event Star!





Posts

: 1500


Join date

: 2015-08-29


Age

: 25


Location

: New York



_________________
Main Event Star!





Posts

: 2046


Join date

: 2015-09-19


Age

: 21



So is the live event going to be Fusion vs Genesis, cause I thought Marcantel was on fusion
Midcard Playboy





Posts

: 259


Join date

: 2015-06-28


Age

: 17


Location

: Somewhere in Florida



HardlineOyster wrote:So is the live event going to be Fusion vs Genesis, cause I thought Marcantel was on fusion
draft officially starts next monday tho
_________________
1x CMV Television Champion - Top's Newsome
1x CMV Vixens Champion - Kitty Quinn-Belle
1x CMV International Champion - Chris Andrews
2x CMV Anarchy Champion - Chris Andrews
1x CMV Womans Intercontinental Champion - Dawn Bryan
1x CMV Tag Team Champion - Kid Campbell (Gladiators w/ Rashad Rockwell)
1x CMV Light Heavyweight Champion - El Jefe
Main Event Star!





Posts

: 2175


Join date

: 2015-12-11


Location

: Leeds, England



Midcard Playboy





Posts

: 487


Join date

: 2016-07-18



can't believe Borton has to put Blake over


_________________
Main Event Star!





Posts

: 2122


Join date

: 2015-05-13


Age

: 17


Location

: Ontario, Canada



Admin





Posts

: 3071


Join date

: 2015-03-08


Age

: 20


Location

: The Hood



Page 1 of 3 • 1, 2, 3

---
Permissions in this forum:
You
cannot
reply to topics in this forum