Fusion & Genesis PPV List!
-Battle Scars
-Anarchy Rulz
-Exodus
-CyberSlam
-Validation
-Point Break
-Regicide
-Cause & Effect
-Home Coming
Fusion/Genesis Superstar of the Week!
Page 1 of 2 • 1, 2

Women's IC Champion Cassie Maverick came out to address the crowd not long after the show started. She had a lot on her mind and a lot to say. She had a new look and sly arrogant attitude. Whatever she had to say it was likely not to be well recieved. Once in the ring, she was handed a mic and spoke.

"Howdy! Lookey what I have here! That's right! This here cowgirl is the Intercontinental Champion! The greatest Intercontinental Champion of all time too! Why? Cuz nobody has given this here title more prestige than Cassie Maverick! I'm the greatest and tonight Betty is gonna get her ass whooped!"

A mixed reaction for Cassie Maverick, some fans even threw garbage in the ring and she kicked some of it back into the crowd and blew a kiss. One fan got mad enough that they almost climbed over the barricade. Cassie laughed and egged them on. "Sit down white trash! You ain't got what it takes! Nobody in the whole of CMV does! I'm the only champion that matters, the only champion that counts! Cassie Maverick had given this here title meaning and I'll be much more than a historical footnote like the other whores of CMV! Nobody is gonna knock me off my high horse. Not Betty, not Page, and sure as hell no Dynamite!"

Then Cassie Maverick drops the mic, waves to the crowd and smugly parades around the ring with her title before heading up the ramp and backstage. She truly believed she was best and had every intent to back up that belief in the coming year.
_________________
My Characters
Cassie Maverick - 2x IC Champion, 2x Vixen's Champion
Mr. Showtime - 1X Tag Team Champion
Bill Maverick
Rage
Gluttony
The Jezebels (Susanna and Valderiss)
Cassie Maverick was interviewed not long after her match backstage.

Interviewer: Cassie! Another great win tonight! Congrats! Are you ready to challenge for the women's intercontinental championship at Thunder in Tokyo?

Cassie: Ya damn right I am! I'm more than ready to win my title belt back and I'm gonna take it back to texas! Kelly snatching it away from me was just a fluke! I'm fixin' to prove it to the whole damn world and soon!

Interviewer: Just to switch topics here for a moment, how do you feel about your brothers return to CMV? He seems to be stirring trouble again. You and him still at each others throats?

Cassie: Ehh, I'd say were at a cease fire of sorts. I sent him a note a while back and we talked but that's all. We're not friends, were not enemies at the moment, but he is family. Take that for what it's worth.

Interviewer: Anything else you'd like to say?

Cassie: Kelly, you have not idea what you're in for at Thunder in Tokyo! Payback is hell and I'm the bitch that's gonna be gunnin' for ya! I'll stop at nothin' to win back my title. Wrestling is my business and you'll just be another footnote in a history book they'll be writin' about Cassie Maverick's legacy in CMV. I'm just countin' down the days until I get my hands on ya! When it's all said n' done and I leave you in broken heap of blond bimbo, there will be a new champion. The greatest women's champion in the history of CMV! And her name is Cassie Maverick.
_________________
My Characters
Cassie Maverick - 2x IC Champion, 2x Vixen's Champion
Mr. Showtime - 1X Tag Team Champion
Bill Maverick
Rage
Gluttony
The Jezebels (Susanna and Valderiss)
During Unmatched...

Cassie Maverick came out to the ring shortly after the show began, smiling and holding her IC title high for everyone to see. She was happy to be on top of her profession and winning back her title helped prove she was everything she said she was. Cassie entered the ring and got a microphone and addressed the crowd.

"Welp, that so called IC title curse held true yet again! Thank you Kelly for the tough match. You gave me all you could but in the end it wasn't enough. You wanna rematch? You got it! But let's make it a fun match with weapons and maybe a little blood! Hopefully I'll be the one to break that curse and go on the be the greatest Intercontinental Champion of all time!"

A mixed reaction for the cowgirl here. Many still hated her for her actions on Fusion but there still many that liked her for her vicious and ruthless desire for competition and winning by any means necessary. Cassie continues.

"As for Leona, she suggested that I drop the belt to her and save myself some embarrassment. Bitch, yer right. I am embarrassed. Embarrassed that the booker thought ya were in same league as me. Embarrassed that we had a match. Embarrassed that ya managed a win over greatness such as myself. So yeah, I should just drop the title and go home."

Cassie Maverick then drops the IC title in the middle of the ring and approached the ropes, acting as though she was actually going to leave. But she smiled and wiggles her finger No No and snatches her title up off the the mat.

"Nah, that's not my style. Ya want this here title so bad yer gonna have to beat me for it! But I do agree with Leona that this where the true workhorses of the women's division truly shine. That there so called "Dynamite Division?" Ha! What a joke! Maybe some day I'll elevate that division and rename it the "Cassie Division". But I'm happy where I'm at right now. I want to add prestige to my IC title and make it mean something more!"

Some cheers now. It became clear that when Cassie was champion, she was much less of of a bitch. She loved to be a fighting champion, she thrives on competition. She may talk a lot of shit but more often than not, she can and has backed it up.

"So I got right here is two gals wantin' a piece of the ole cowgirl right now. Hmmm. I have a suggestion. Why not have Kelly, Leona, and me fight it out in triple threat match? And not just any triple threat match neither. Tables, Ladders, and Chairs! Why not steal the show and make it the match of the night again? I'm sure we can all agree that this is a match we'd all like to see. Boss, ya have the power of the pen. If ya'all want a great match, then make it happen!"

Cassie then left the ring with her title and waving to crowd after getting them pumped up at such a possibly. But Cassie just made a suggestion as she really didn't have the power to book herself. But as IC champion she perhaps had more stroke than most might in suggesting a match type for the next title defense.
_________________
My Characters
Cassie Maverick - 2x IC Champion, 2x Vixen's Champion
Mr. Showtime - 1X Tag Team Champion
Bill Maverick
Rage
Gluttony
The Jezebels (Susanna and Valderiss)
Before her Tag Team Match on Ferocity, Cassie Maverick is interviewed back stage by Lisa Evans.

Lisa - Good Evening everybody! I'm here with CMV's Intercontinental Champion Cassie Maverick! Cassie? How do you feel about Murasaki Ryuu coming after your championship?

Cassie - Mura who? Who is she? I'll tell ya who the hell she is! She's another johnny come lately trying to make herself famous just by getting in the ring with me! I wouldn't want to wrassle her for a million bucks! But she's earned her shot and she's gonna regret even thinkin' that she can beat me for it!

Lisa - Aren't you concerned that she's a submission specialist?

Cassie - Pfft! I can cripple this cunt if I wanna! I'll gladly put her in the career killer and break her kneecaps like I dun did to Fury. If Murawho makes this personal, I'll end her wrasslin' career!

Lisa - Your latest attitude has made you the most hated vixen in CMV. How do you feel about that?

Cassie - I'd call that an accomplishment. I honesty don't hate the fans but I don't give a rats ass about em neither. I used to sign autographs and take pictures with them, but after a while sister you just tired of that shit! This here cowgirl just wants to kick some bimbo ass, collect her pay, and go home!

Lisa - One last question. How do you feel about the big influx of vixen's coming to Ferocity?

Cassie - I'm thrilled! I beat most of em already! Let's hope that they've improved since I was last on Fusion! Ha! Cassie Maverick thrives on competition and I need to go up against the best to stay on top of my game! If any of em wanna try me, they know where to find me! Right her on Ferocity!
_________________
My Characters
Cassie Maverick - 2x IC Champion, 2x Vixen's Champion
Mr. Showtime - 1X Tag Team Champion
Bill Maverick
Rage
Gluttony
The Jezebels (Susanna and Valderiss)
Cassie with this vintage savagery
_________________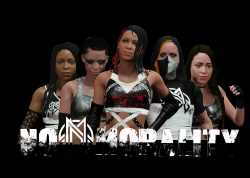 "90 OvR cap"

Admin





Posts

: 5161


Join date

: 2015-03-09


Age

: 20


Location

: MizTV


Humor

: SlymR is Irish



After the tag team match...

Ashleigh Infinitee got the win over Morgan Black and as they celebrated in the ring, Cassie Maverick felt confident that she'd defeat Murasaki Ryuu easily in her upcoming title defense. They had locked up and exchanged their best moves and the current IC champion wasn't impressed. The cowgirl got out of Murasaki's best submissions and endured the pain. Cassie believed she had this challenger figured out and she decided on taunting her opponent at ringside. She waves at Murasaki and blows her kiss, then she smiles and slaps her own butt. The crowd was loud so the words weren't heard but Cassie's lips said it all, "Kiss my ass bitch!"

This was likely the tipping point for Murasaki and she probably wouldn't let this slide without some sort of retaliation. Cassie Maverick's overweening pride could be her downfall, turning her back on her challenger assuming she didn't have the guts to strike back. The time had come to see if Murasaki Ryuu would act on her anger and prove the cocky IC Champion wrong with such assumptions.

(Open to Miz)
_________________
My Characters
Cassie Maverick - 2x IC Champion, 2x Vixen's Champion
Mr. Showtime - 1X Tag Team Champion
Bill Maverick
Rage
Gluttony
The Jezebels (Susanna and Valderiss)
As Cassie looks into the crowd, raising her belt up high, taunting them, a fire can be seen in the eyes of Murasaki Ryuu, a fire that has grown from the sheer disrespect towards her from Cassie Maverick over the past week or so, from the interview, to now this, the crowd begins to cheer as Ryuu steps into the ring, Cassie, completely unaware of the situation is under the assumption they're cheering for her to which she simply brushes them off turning away from the crowd into a stiff forearm which staggers The Cowgirl long enough for Ryuu to grab hold of Cassies arm and fall backwards, wrapping her legs around Maverick real tight, locking in the Kimura.

At first Cassie seems contained as she reaches her free arm over in attempt to break the grip of the legs of Ryuu that are wrapped around her like a snake squeezing it's prey, but after failing to shift the legs, and depriving a fair amount of energy in doing so, the pain of the Kimura begins to kick in and Cassie tries to stay compose, but the pain is showing. Cassie begins to scream, but refuses to tap, she gets up, almost on all fours with her one free hand and crawls towards the ropes with Ryuu hanging off of her, the ref, who has been unable to control the situation calls for security while Cassie calls out for her tag team parter from the previous match, however Infinitee, perhaps still upset about losing the contenders match simply ignores her, walking off to the back. Cassie continues to shriek in agony, finally reaching her breaking point, tapping out, however Ryuu refuses to break the hold, and begins shouting in Japanese towards Maverick.

The arm continues to bend with Maverick ferociously tapping faster and faster, understanding that her bones are about to snap, but Ryuu, enraged refuses to release the hold as security runs down the ramp, sliding into the ring they pull Maverick up to her feet, but to the surprise of the crowd Ryuu hangs on, coming right up with her, and after a scramble from security they finally force The Purple Dragon of Japan to release the hold. Maverick falls back into the corner, holding her arm, surprised that it's not broken, while Murasaki Ryuu picks up the Womens Intercontinental Championship, looking at it, then back at Maverick before throwing it at her. Without saying a word, Ryuu points to the sky as her theme hits the PA system, and makes her way out of the ring leaving Cassie in a heap in the corner as she walks to the back.
_________________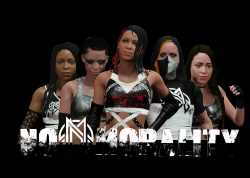 "90 OvR cap"

Admin





Posts

: 5161


Join date

: 2015-03-09


Age

: 20


Location

: MizTV


Humor

: SlymR is Irish



After the 6 Vixen Tag Team Match -

Morgan Black had hurt the cowgirl Cassie Maverick by spearing her off the apron. The IC Champion was reeling for a good while but from the sound of the music, she knew her team lost. Flummoxed and ready to tear apart whomever was left in ring, Cassie snatched her belt from ringside. Much to her delight, it was Murasaki Ryuu who was still in the ring, electing to remain behind to play with the crowd. Too distracted by the fans, the Intercontinental Champion caught Murasaki Ryuu with a belt shot to the back of the head.

The fans didn't like this at all but Cassie Maverick wasn't done yet. Not by a long shot. Laying the IC belt in the middle of the ring. Picking up the prone Murasaki she then delivers a crushing Cassies Cutter! Driving her challengers face right into the gold! The fans booed and tossed garbage into the ring. Cassie didn't care and raised the title high, blowing a kiss into the crowd. She then got a mic as she had a few words for her opponent.

"Listen MuraWho! You made the mistake of makin' this personal! I was gonna take it easy on ya, but after ya done tried to break my arm, I'm gonna break you! I don't care if it costs me the match or this here title, I'm going out there to make you pregnant with a pain baby! Get ready for the worst beatin' of yer life!"

Cassie then drops the mic and leave the ring with her title and her arrogant pride. Whoever wins this clash was anybodies guess, but this much was certain...it was gonna be a nasty fight.
_________________
My Characters
Cassie Maverick - 2x IC Champion, 2x Vixen's Champion
Mr. Showtime - 1X Tag Team Champion
Bill Maverick
Rage
Gluttony
The Jezebels (Susanna and Valderiss)
Backstage Interview with Cassie Maverick during Ferocity...

Lisa Evans - Cassie, can I have a few minutes of your time? I know a lot of people are wondering why you chose to attack Fury and Sophia Caldwell after their match.

Cassie - My history with Fury is well known. I don't need to bore everybody with the details. I'll just say I hate the bitch and will end her wrasslin' career. No Morality clearly can't handle her, but I can.

Lisa - Speaking of No Morality, why did you attack their leader? What's going on there?

Cassie - Welp, I first was mildly annoyed that they ignored my arrival in their backyard. I was gonna get their attention earlier. Then comes Fury and I was happy to sit idly by and watch those buzzards pick her apart. But low and behold, they couldn't get the job done!

Lisa - So you're mad at No Morality for not taking out Fury?

Cassie - It's more than that. Caldwell is big mouthed bitch that can't back up her threats. I can and I'm gonna make it a point to break her too! Caldwell is weak and that's why she hides behind her little flock of buzzards! I can stomp that little rat snake that they call a leader into a puddle and walk it dry. Caldwell is on my hit list as is Fury!

Lisa - Wow! So you want them both? That might be a rough title defense if you put the Intercontinental Championship on the line. You sure you wanna risk that?

Cassie - Damn straight! This isn't about my title. I'm going out there to go to war with No Morality and to end Fury's career. I've beaten Fury before and I'll damn sure beat her again. Once I cripple Caldwell, No Morality will fall. Cut the head off the snake and body dies! Beware bitches! I'm gunnin' for both of yas and I don't wound my targets! I shoot to kill!
_________________
My Characters
Cassie Maverick - 2x IC Champion, 2x Vixen's Champion
Mr. Showtime - 1X Tag Team Champion
Bill Maverick
Rage
Gluttony
The Jezebels (Susanna and Valderiss)
Page 1 of 2 • 1, 2

---
Permissions in this forum:
You
cannot
reply to topics in this forum